Girls and women in science: Where do they stand?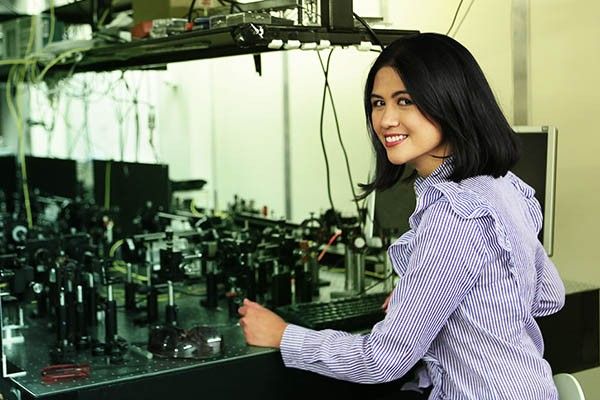 MANILA, Philippines (Originally published on March 29, 2018) — There are more women in science than ever before.
In the Philippines, almost half of Filipino science and technology practitioners are females, the most recent government data showed.
The country also prides itself for having the narrowest gender gap in Asia and 10th in the world, according to the 2017 Global Gender Gap Index.
While there is a very narrow gender gap in the number of professionals in the science, technology, engineering and math industries in the country per se, gender discrimination and sexual harassment remain frequent in the traditionally male-dominated field.
Gender is also perceived as more of a hindrance than an advantage to career success for women in STEM workplaces.
Hostile environment for women
According to a recent Pew Research Center survey, women in STEM in the United States (50 percent) are more likely to say they have experienced discrimination in the workplace than women in non-STEM jobs (41 percent).
Excluding life sciences, the fields of chemistry, engineering, informatics, mathematics and physics have the least women representation.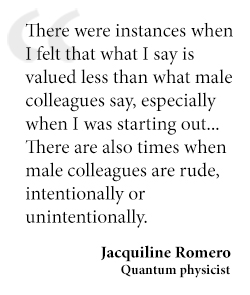 Filipina quantum physicist Jacquiline Romero, who was named one of the L'Oreal-UNESCO for Women in Science Australian Fellows for 2017, opened up about the struggles of being a woman in science.
"There were instances when I felt that what I say is valued less than what male colleagues say, especially when I was starting out... There are also times when male colleagues are rude, intentionally or unintentionally," Romero told Philstar.com in an online exchange.
The American think tank also noted that women in STEM and non-STEM jobs are equally likely to say they have experienced harassment at work and are less inclined than men to think that women are "usually treated fairly" when it comes to promotions where they work.
Romero said that there is a lot of work to be done structurally and culturally, but she stressed the importance of a woman's voice in a room full of men.
"I have trained myself to communicate more strongly and effectively, especially in discussions where there are only men in the room," the researcher at the University of Queensland in Australia said.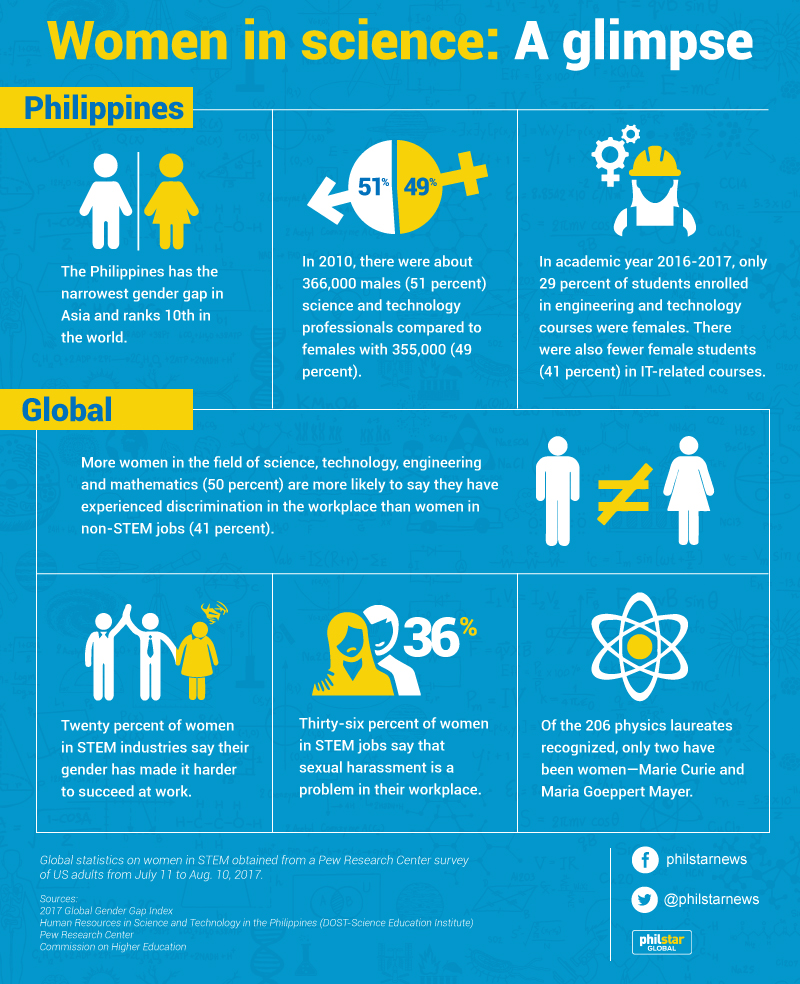 Lack of female role models
"The bad thing about being in a male-dominated industry is that you start with the knowledge that the odds are against you—too few women at the top points to factoring hindering women to reach the top."
Romero stressed this point, saying that the lack of visible female role models in STEM feeds disparities.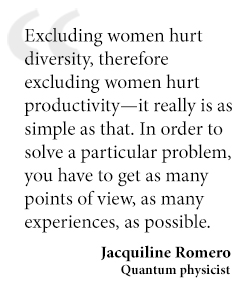 According to the Commission on Higher Education, only 29.3 percent of students enrolled in engineering and technology courses during the academic year 2016-2017 were females compared to the 70.7 percent who were males.
There were also fewer female students (40.6 percent) in IT-related courses than male students (59.4 percent).
A 2011 report of the Organization for Economic Cooperation and Development also noted that the lack of professional role models for girls in STEM fields is one of the reasons why relatively few girls enter such careers.
"Initiatives to make the existing examples and role models more salient to girls could help and the same should hold for boys in terms of traditional feminine occupations," OECD said.
The lack of female role models is reflected in the representation of women in the most prestigious award in science—Nobel Prize in physics, chemistry, physiology or medicine and economic sciences.
Of the 357 people awarded a Nobel in science categories, only 16 were women. Of these women, only two received the Physics award—Marie Curie and Maria Goeppert Mayer—and they did not even get the full prizes as they shared the laureates with their male colleagues.
"Having very few women in the higher ranks points to systemic inadequacies that need to be addressed," she said.
To the girls, women and mothers in STEM
Romero, who also received a recognition in 2015 for being part of the team that devised a way to slow down light particles in free space, stressed the need for more women on the table, not just in STEM.
"Excluding women hurt diversity, therefore excluding women hurt productivity—it really is as simple as that. In order to solve a particular problem, you have to get as many points of view, as many experiences, as possible," the University of the Philippines alumna said.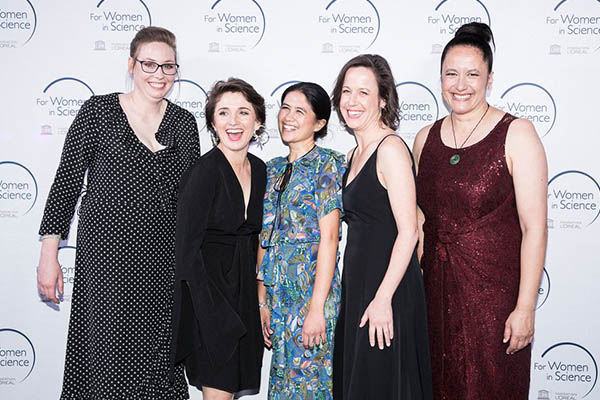 Romero wants to get more women, especially mothers, in science. She also dreams of a culture that accepts the idea that raising a family and maintaining a successful career in science are not mutually exclusive.
"You really have to believe that being a mother and [being] a scientist are not mutually exclusive because it is not. Focus is really the key, be where you are. When I am at work, I only think of work; when I am at home, I enjoy my time with family."
As a former Department of Science and Technology-Science Education Institute scholar, Romero has this message for the next generation of female innovators and leaders: do not believe in stereotypes and let nothing stop you.
She believes that at a time when technology rapidly changes the way we live, women should empower one another that they can do well as men can.
"[To the women in STEM], keep on producing good work. We need more good women scientists as role models. Make yourself visible, especially to younger girls. If our girls can associate women with science from a very young age, more girls will pursue science," Romero said.
As the L'Oreal-UNESCO Women in Science fellowship puts it: "The world needs science, and science, more than ever, needs women."