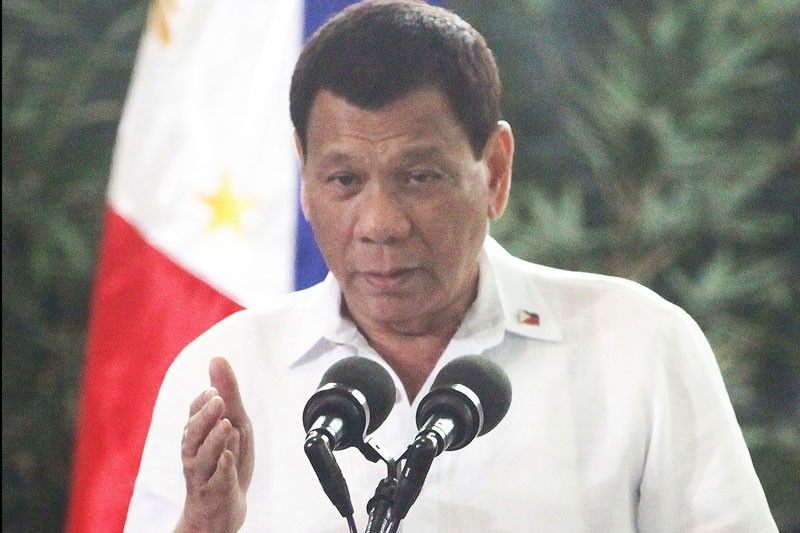 Duterte, who will celebrate his birthday on March 28, admitted feeling drained by the workload, travels, engagements and other official activities he has to do every day, in and out of Malacañang.
Michael Varcas
Presidency is killing me – Duterte
MANILA, Philippines — Turning 73 years old later this month, former Davao City mayor Rodrigo Duterte feels the presidency is "killing" him as his administration wraps up its second year.
Duterte, who will celebrate his birthday on March 28, admitted feeling drained by the workload, travels, engagements and other official activities he has to do every day, in and out of Malacañang.
He's not complaining but merely responding to a question on how he found his job since assuming power on June 30, 2016.
"It's a killing job," the President told select columnists from mainstream media that included The STAR last Tuesday night at the Palace.
"You have to make hard decisions and yet every one is not happy," the President explained. "But I think God has placed me here to do this job in this generation of our country, faced with so many problems from insurgency, illegal drugs."
Speaking of realities, Duterte estimated he would get P4 million to P5 million in retirement benefits if he completes his six-year term in office, an amount that might be enough to pay for his medical expenses.
During the presidential campaign in 2016, he admitted he had a slipped disc from a motorcycle accident 10 years ago. He would have undergone surgery to remedy it but his partner Honeylet Avanceña advised him against it, as the procedure is risky and could be fatal.
The condition, the President cites, is the one that frequently causes him pain and requires him to take fentanyl. He discontinued taking the opioid after his personal doctor found out he used more than the dosage recommended.
He also has Barrett's esophagus, which involves the tissue lining the esophagus, and Buerger's disease, a constriction of the blood vessels caused by the accumulation of nicotine after years of cigarette smoking.
But none of these ailments is life threatening, the then PDP-Laban presidential standard-bearer insisted.?Duterte again dismissed claims of the opposition that he plans to extend his stay in office beyond June 2022 through the shift to federalism via Charter change.
He pointed out that he has agreed with both leaders of the 17th Congress to target the year 2020 for the shift to federal system.
"If it calls for election (for transition), I will step down," the President said. "But if (there is) no election, I won't (step down) because it will be abandonment of my duty."
Senate President Aquilino Pimentel III gave assurance that the campaign to amend the Constitution to shift the country's governance to a federal system is not meant to extend the term of the President.
Pimentel issued the statement during a Senate committee on constitutional amendments hearing in Baguio City yesterday. The committee, chaired by Sen. Francis Pangilinan, conducted the hearing on various Charter change bills.
One of the resource persons, Maria Meryl Isidro of the Student Council Alliance of the Philippines, pointed out during the hearing that the Charter change proposal would allow Duterte to run again for president when his term ends in 2022.
But Pimentel said the PDP-Laban, over which he presides, has been pushing for federalism for more than 35 years already or from the time when Duterte "was still in shorts."
"This (Charter change) is not for him," he added, stressing the President does not like to extend his term for 17 years, as some suggest. "Don't be afraid of ghosts that are not there. We see too many ghosts where there are none. Let's not imagine too much."
While he acknowledged there are proposals within the PDP-Laban to allow Duterte to run again, Pimentel said these suggestions are absent in the party's official draft constitution.
He also stressed that the Senate is not rushing to approve the proposals to amend the Constitution or insisting on a shift to a federal system if Filipinos are not ready for it.
"Federalism is really a long journey. Don't worry, we're not rushing this. If there's no solidarity (from the people for federalism), then let's not yet shift to federalism. Solidarity cannot be legislated, it should come from your heart and mind," Pimentel said.
Bury the hatchet
Meanwhile, Duterte said he is ready to patch up things between his two close allies – Speaker Pantaleon Alvarez and Rep. Antonio Floirendo Jr. – to put an end to their feud over banana importation and for the good of the country.
But he would not dare meddle in the fight between his daughter, Davao City Mayor Sara Duterte-Carpio, and Alvarez. Duterte-Carpio was earlier reported to have sought Alvarez's ouster from the speakership.
"I don't want to meddle because she punches people. Didn't she punch that fiscal before? But Bebot (Alvarez) is wrong in his interpretation of Hugpong (Sara's political party) because it has been there long before she entered politics," Duterte said in Filipino during the meeting with newspaper columnists.
Asked for his birthday wish, the President said he has been celebrating his birthday in simple ways to avoid being accused of using taxpayer's money for grand celebrations.
"You know, I don't make a fuss over my birthday celebration, they were telling me they want to hold a gathering at one of the hotels in Davao City," Duterte was quoted saying.
During this party, Duterte said he would take the occasion to allow Alvarez and Floirendo to meet and bury the hatchet between them.
"I will invite Bebot Alvarez and Tonyboy Floreindo, I will pull the two together to meet with me in one of the function rooms there perhaps and tell them 'Do not quarrel'," he said, adding that a reconciliation would be in time for his meeting with the banana industry leaders in Mindanao in April.
While the fight was reported as having emanated from a row over their respective girlfriends, Duterte clarified that this is actually due to the two's disagreements over the division of quota for banana exports – which has reached $618.8 million before they assumed office in 2016.
Duterte noted that the quarrel has affected many in Mindanao and that the two had swapped charges that has affected their relationships.
Based on the initial joint venture agreement that Floirendo entered into with the Bureau of Prisons in 1969, only 3,000 hectares of the Davao Penal Colony were to be covered by the plantation. This area was expanded to 5,308 hectares by 2004. The Floirendos have been the leading exporter of bananas from Mindanao since the time of the patriarch Antonio in 1969.
Rep. Floirendo claimed that his family never took advantage in their dealings with the government, maintaining that the joint venture agreement between his family's Tagum Agricultural Development Co. and the Bureau of Prisons in the Davao Penal Colony has been affirmed as legal, contrary to Alvarez's claims. – Paolo Romero, Christina Mendez