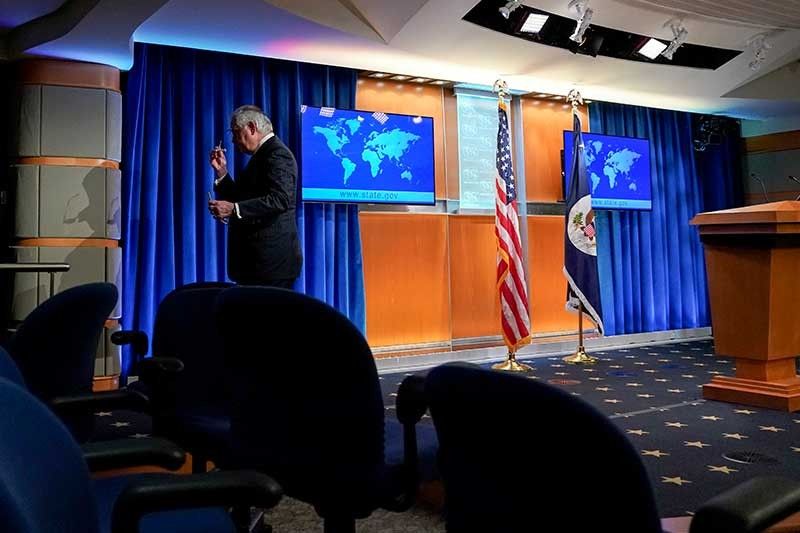 Secretary of State Rex Tillerson steps away from the podium after speaking at a news conference at the State Department in Washington, Tuesday, March 13, 2018. Trump fired Secretary of State Rex Tillerson on Tuesday and said he would nominate CIA Director Mike Pompeo to replace him, in a major staff reshuffle just as Trump dives into high-stakes talks with North Korea.>
AP/Andrew Harnik
Philippines thanks Tillerson, looks forward to working with Pompeo
MANILA, Philippines — The Philippines is looking forward to further strengthen its relationship with the United States as the latter designates a new Secretary of State.
US President Donald Trump has dismissed State Secretary Rex Tillerson and appointed CIA Director Mike Pompeo as Washington's top diplomat.
Mike Pompeo, Director of the CIA, will become our new Secretary of State. He will do a fantastic job! Thank you to Rex Tillerson for his service! Gina Haspel will become the new Director of the CIA, and the first woman so chosen. Congratulations to all!

— Donald J. Trump (@realDonaldTrump) March 13, 2018
"We congratulate Mike Pompeo on his designation as the new Secretary of State. We look forward to working with him and further stregthening the special relationship between the Philippines and the United States," Foreign Affairs Secretary Alan Peter Cayetano said in a statement.
Cayetano added that Manila is confident of more cooperation and collaboration with Washington as Pompeo takes over the US Department of State.
The Philippines' top diplomat also expressed his gratitude to Tillerson, which he considers a good friend of the country who played a crucial role in the relations with the US.
"We thank Secretary Tillerson for his friendship and the support he has extended to the Philippines and the Filipino people particularly during the period when our relations with the United States were facing challenges. We pray for the best for Secretary Tillerson in all his future endeavors," Cayetano said.
Tillerson has called for an orderly transition to Pompeo while his successor is awaiting confirmation by the Senate. The outgoing US State Secretary said that he would be delegating his responsibilities to Deputy Secretary of State John Sullivan.
Following his unceremonial firing via Trump's tweet, Tillerson said that he would be formally stepping down from his post at the end of the month.
Tillerson also said that his department "exceeded the expectations of almost everyone" on North Korea. While Trump claims credit for agreeing to a meeting with North Korean leader Kim Jong Un, Tillerson insisted that his diplomatic work helped pave the way for that. — with Associated Press