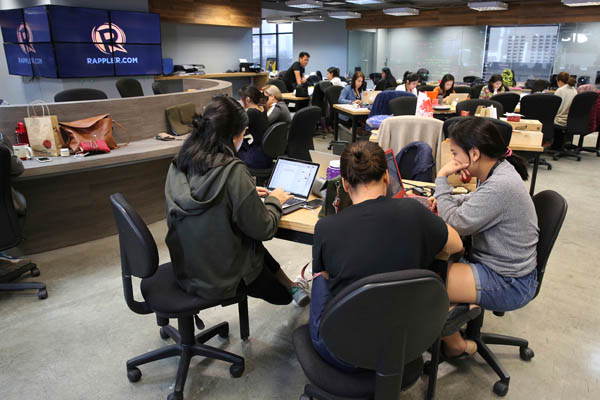 President Rodrigo Duterte said he would only allow Rappler and its reporter, Pia Ranada, to cover his official events should the SEC reverse its decision to revoke the outlet's license for ownership violation. The corporate regulator's ruling was not executory. AP/Aaron Favila, File
SEC chair on Rappler ban: Palace accreditation rules must be respected
MANILA, Philippines — The Securities and Exchange Commission on Friday said it respects Malacañang's decision to bar local news site Rappler from covering presidential events, which was heavily criticized by industry groups as an attack on press freedom.
President Rodrigo Duterte said he would only allow Rappler and its reporter, Pia Ranada, to cover his official events should the SEC reverse its decision to revoke the outlet's license for ownership violation. The corporate regulator's ruling was not executory.
Duterte said Rappler—a news organization known for its tough scrutiny of his government—is "not a legitimate agency," adding that he was just "invoking executive action based on the SEC ruling."
Speaking to reporters, SEC Chairperson Teresita Herbosa said Malacañang's rules on accrediting journalists who can cover the president must be respected.
"If there is no arbitrary nature in those actions of Malacañang, then I'm sure it's within their legal authority," Herbosa said. "So you have to leave that to them."
"SEC is an executive agency, when agencies make decisions, it's really only based on the mandate. And in the case of the president they have many rules that have to be implemented," she added.
In an en banc decision last month, the SEC ruled that Rappler and its parent Rappler Holdings Corp. were "liable for violating the constitutional and statutory foreign equity restrictions in mass media."
Rappler vowed to take the battle to court and said banning them from covering Palace events is a "clear case of intimidation."
Duterte earlier accused Rappler of "throwing trash and shit all along" and called it a "fake news outlet" for running a story carrying a headline that said Special Assistant to the President Christopher Go had "intervened" in a multi-billion peso Navy frigate deal.
At a Senate hearing early this week, Go vehemently denied wrongdoing and lashed out at Rappler and the Philippine Daily Inquirer, which also reported his alleged meddling in the controversial procurement.
Incorporating again
The SEC earlier said it conducted an "internal, inter-departmental investigation" as early as December 2016 after the Office of the Solicitor General requested for a probe.
The investigation zeroed in on Rappler's sale of Philippine Depositary Receipts—a security which grants the holder the right to the delivery of sale of the underlying share—to foreign entities Omidyar Network Fund LLC. and NBN Rappler LP.
The SEC said it found that Rappler committed a "deceptive scheme to circumvent the Constitution" and declared void the PDRs issued to Omidyar for being a "fraudulent" transaction.
But Herbosa said Rappler can reorganize another corporation "anytime" and offer the same business as long as it would be 100 percent Filipino-owned.
The embattled news site can also withdraw its earlier filed petition before the Court of Appeals should the company decide to reorganize, Herbosa added.
"Revocation refers only to this company which has the subject of the PDR. When it comes to names, the SEC recognizes if you own the name and you want to reorganize or reincorporate the same name, as long as you own the name, then there is no problem," she explained.