Lacson panel report: Disbar UST Law Dean Divina, some Aegis lawyers
January 24, 2018 | 4:56pm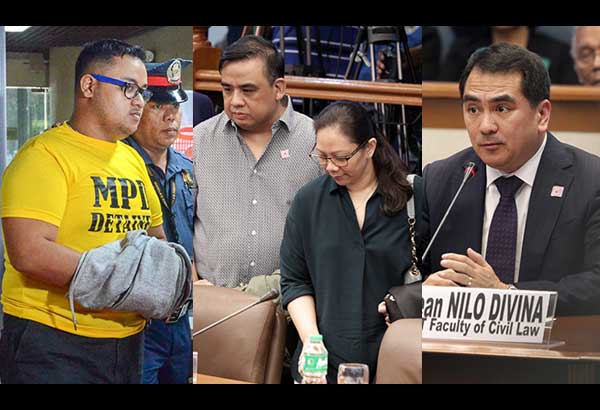 MANILA, Philippines — University of Santo Tomas Law Dean Nilo Divina and other members of the Aegis Juris Fraternity are facing the possibility of being disbarred after a Senate panel investigating into the death of Horacio "Atio" Castillo recommended their expulsion from the legal profession for their supposed involvement in the cover-up of the incident.
In his sponsorship of the Senate's committee report on the death of Castillo, Sen. Panfilo "Ping" Lacson said Divina and other lawyers belonging to the Aegis Juris fraternity should be removed from the profession for their efforts to hide what truly happened to Castillo during the group's initiation rites.
"To be blunt, Mr. President, we believe that it is just proper to disbar members of the Aegis Juris Fraternity involved in the attempt to cover up the crime," Lacson, chairman of the Senate Committee on Public Order and Dangerous Drugs, said.
READ: UST denies indifference to student's hazing death
Aside from Divina, Lacson's committee report is also recommending the disbarment of Marvi Abo, Alston Kevin Anarna, Edzel Bert Canlas, Cecilio Jimeno, Ferdinand Rogelio, Eric Fuentes, Cesar Ocampo Ona, Gaile Dante Caraan, Henry Pablo, Jr., Jet Villaroman, Cesar Dela Fuente, Niño Kjell Servañez, Manuel Angelo Ventura III, Michael Vito, Nilo Divina, Arthur Capili, Irvin Joseph Fabella, Edwin Uy, Allan Christopher Agati and other fraternity members identified to have possessed knowledge of Castillo's death and failed to report the incident to authorities.
Lacson said Divina had shown acts that showed his bias for the fraternity before and after Castillo's death, adding that there were photos that would belie his "oft-repeated claim" of temporary severing his ties to the group when he assumed the deanship of UST's Faculty of Civil Law.
The senator also rejected the defense of Divina that he had no means of identifying the freshman student who died of hazing because he could have easily contacted his law partner who had knowledge of the incident and the fraternity adviser to reach out to members of the Castillo family.
"It's unacceptable for a personality as 'influential' as Divina to allow himself to be clueless, considering that the issue would have disastrous effect not only on his leadership but also on his reputation," Lacson said.
READ: 'We'll leave no stones unturned': UST condemns student death in alleged hazing
The committee also assailed Divina's assertion that there was no oversight on his part. Lacson sardonically said that this may be true in Divina's capacity as a frat member but not as dean.
The University of Santo Tomas should have also rejected outright the application for recognition of the Aegis Juris group due to its late submission of documents as well as incomplete endorsements. This could have prevented Aegis Juris from attending the freshman orientation where Castillo was recruited, according to Lacson.
READ: Murder, hazing raps filed vs 18 in UST hazing
UST also failed to exercise "due diligence" in ensuring the implementation of the country's Anti-Hazing Law. Lacson said that UST's denial of the presence of hazing on its campus was based only on a signed document which fraternities and sororities in the school were required to sign to be acknowledged.
"Granting that the list of members is updated each year, UST should have inquired as to why they were not notified of any initiation rites notwithstanding the inclusion of new names of members on their Petitions for Recognition," Lacson said.