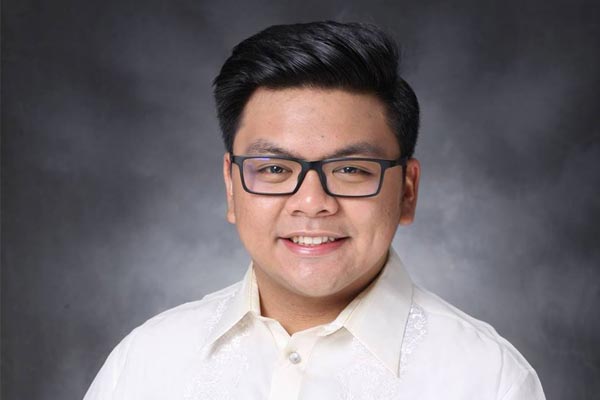 Justice Secretary Vitaliano Aguirre II orders the National Bureau of Investigation to probe into the death of the University of Santo Tomas law freshman Horacio Tomas Castillo III who was allegedly killed during the "welcome ceremony" of the fraternity Aegis Juris. Photo from Horacio Tomas Castillo III's Facebook
NBI to probe hazing death of UST law freshman
(philstar.com) - September 19, 2017 - 3:00am
MANILA, Philippines — Justice Secretary Vitaliano Aguirre II on Monday ordered the National Bureau of Investigation to investigate the death of the University of Santo Tomas law freshman believed to have been killed during fraternity hazing.
Horacio Tomas Castillo III, 22, was allegedly killed during the "welcome ceremony" of Aegis Juris, a UST law fraternity. His body, which was dumped on a sidewalk in Tondo, was bloated and had candle and cigarette marks and bruising.
"Deaths and physical injuries due to hazing have no place in a civilized society. The loss of a life should never be the price that one should pay for brotherhood and acceptance. The persons responsible for this senseless death should be brought to justice," Aguirre, an alumnus of San Beda's Lex Talionis Fraternitas, said.
READ: UST law freshman dies in alleged frat hazing
He also ordered the NBI to file charges against those responsible for Castillo's death.
"We will endeavor to see to it that those who are responsible will be held accountable to the full extent of the law," Aguirre said.
All members of the Aegis Juris Fraternity have been placed on preventive suspension.
Thomasians call for justice
Calls for justice were heard inside the UST campus as students and faculty members gathered to mourn and seek justice for the slain law freshman.
A prayer vigil for Castillo was held Monday night at the Civil Law lobby.
READ: 'We'll leave no stones unturned': UST condemns student death in alleged hazing
The UST Civil Law Student Council condemned the death of one of its fellow students.
"Horacio was promised brotherhood, support, and camaraderie; but instead what he got was pain, suffering, and death," UST CLSC said.
The council vowed that it will "not allow this horrendous act to pass without having those accountable face the consequences of their actions."
In a statement, UST said investigations will be conducted immediately to find out the truth and institute necessary legal actions.
"We condemn in no uncertain terms hazing in any form or manner. Violence has no place in an academic institution, particularly in our University that values and promotes charity and compassion," UST said in a statement.
It added: "We will leave no stones unturned to ensure that the perpetrators be meted the appropriate sanctions and brought to justice."
UST Civil Law Dean Nilo Divina on Monday said the "welcome ceremony" of Aegis Juris was not coordinated with the school.
"It was not coordinated with the faculty. We are not aware of such event. We do not involve ourselves in activities of any fraternity," Divina told Philstar.com in a text message. Divina is an alumnus of Aegis Juris.
Under the Anti-Hazing Law, school authorities must be informed in writing of hazing or initiation rites seven days before the activity.
Castillo graduated from the UST Faculty of Arts and Letters with a degree in Political Science.
Solons condemn death
Members of the lower and upper houses of Congress also condemned Castillo's death.
Kabataan party-list Rep. Sarah Jane Elago said the Filipino youth must fight against "this fascist and tyrannical regime that propagates violence and impunity."
"We must put an end to hazing and seek justice for the ever-growing list of victims. If there is something to be put to death, it is the old rotting tradition of hazing and the culture of impunity, not the lives of the future of our nation!" Elago said in a statement.
Sen. Joel Villanueva, a Thomasian alumnus, said that violence has no room in an institution that upholds Christian values and ideals.
"I am deeply concerned at this recent event and urge the UST and the proper authorities to investigate and hold the people accountable for this unfortunate incident involving our fellow Thomasian," he said.
Bagong Henerasyon party-list Rep. Bernadette Herrera-Dy said that Castillo's death shows that fraternities have not learned "the tragic and painful lessons of previous fatal hazing incidents."
Dy is the author of House Bill 3467 or the Revised Anti-Hazing Law, which seeks to make all kinds of hazing illegal. The Anti-Hazing Law merely regulates initiation rites but prohibits physical harm and violence against applicants.
Under the current hazing law, "if the person subjected to hazing or other forms of initiation rites suffers any physical injury or dies as a result thereof, the officers and members of the fraternity, sorority or organization who actually participated in the infliction of physical harm shall be liable as principals."
Castillo's death is not the first from hazing, against which a law was passed in 1995.
In 2015, Anthony Javier, a student at the Western Mindanao State University in Zamboanga City died after hazing by the Tau Gamma Phi WMSU-chapter. The year before, De La Salle-College of Saint Benilde student Guillo Cesar Servando was also killed in hazing rites of a chapter of the same fraternity.
In 2013, John Mark Dugan, a 19-year-old sophomore marine cadet at the Maritime Academy of Asia and the Pacific died of hazing. Two San Beda law students—Marc Andre Marcos and Marvin Reglos—were killed in hazing by different fraternities in 2012.