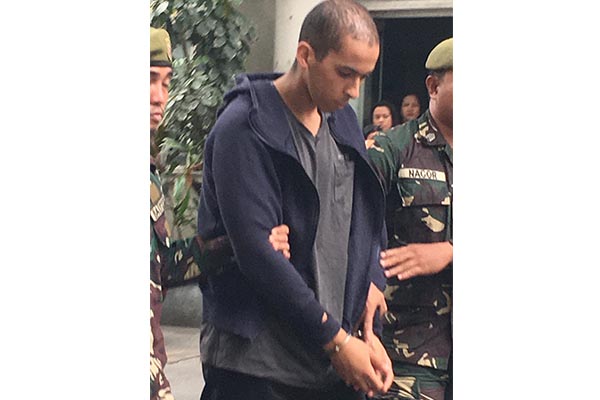 Spanish national Labidi Adib was brought to the Department of Justice on January 24 morning to undergo inquest proceedings before Senior Assistant State Prosecutor Peter Ong and Assistant State Prosecutor Rodan Parrocha. The Philippine STAR/Evelyn Macairan
AFP files illegal possession of explosives rap vs suspected Spanish terrorist
MANILA, Philippines — The Armed Forces of the Philippines on Wednesday filed illegal possession of explosives complaint against a suspected Spanish terrorist reportedly caught in Basilan.
Twenty-year-old Abdelhakim Labidi Adib was brought to the Department of Justice to undergo inquest proceedings before Senior Assistant State Prosecutor Peter Ong and Assistant State Prosecutor Rodan Parrocha.
Government forces caught Labidi Adib on the night of January 23 at a checkpoint in a town in Basilan, known to have strong presence of the Abu Sayyaf Group.
Labidi Adib, in front of the prosecutors, denied the charges against him. He also denied that the bag containing a hand grenade, one rifle grenade, a cellular phone used as detonating device, credit card, identification card and cash was his.
Presented before DOJ Prosec Ong is Spanish national Abdelhakim Labidi Adib who was caught by the Army in Basilan carrying a backpack allegedly containing explosives.@PhilippineStar pic.twitter.com/sTZrpM6OOv

— evelynzmacairan (@EZMacairan) January 24, 2018
The military received an intelligence information of a foreign terrorist in the area.
At around 11:00 p.m. of January 22, the military stationed at a checkpoint in Maluso, Basilan saw Labidi Adib and another Filipino. The two reportedly ran away, but the Spanish national was caught.
His companion, believed to be a member of the ASG, eluded arrest by jumping off a cliff.
Labidi Adib denied also denied knowing his companion. He added that he did not intend to go to Basilan, but was in the Philippines for vacation.
The Spanish national is facing a complaint on violation of Republic Act 9516 or illegal possession of explosives.
The DOJ has set a preliminary investigation on Jan. 31, 2:00 p.m. — with report from Evelyn Macairan