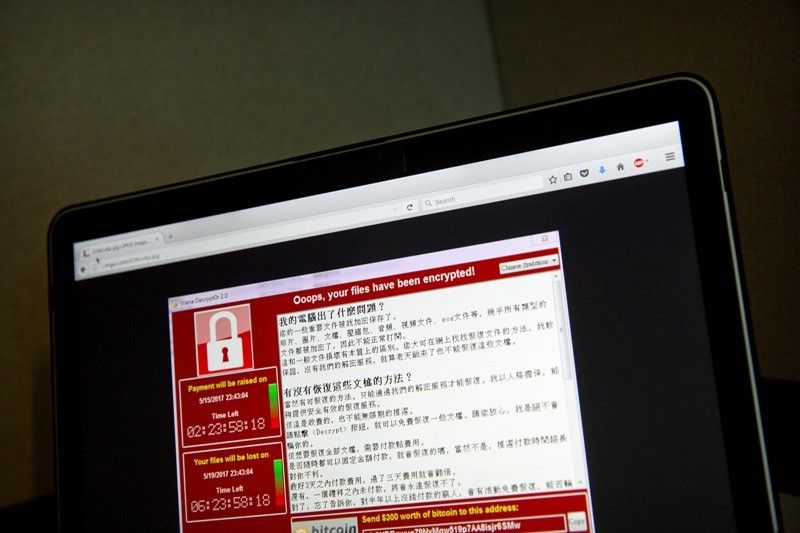 Digital technology expert Reynaldo Lugtu, a member of the advisory board of Global Chamber Manila, said the country also ranks 10th in the world in terms of falling prey to cyber attacks, citing data released recently by the US Federal Bureau of Investigation (FBI). AP/Mark Schiefelbein, File
Philippines top victim of cyber attacks
Edu Punay
(The Philippine Star) - January 15, 2018 - 12:01am
MANILA, Philippines — The Philippines, considered as the social networking capital of the world, is the most susceptible nation in Southeast Asia to cyber attacks, according to an expert.
Digital technology expert Reynaldo Lugtu, a member of the advisory board of Global Chamber Manila, said the country also ranks 10th in the world in terms of falling prey to cyber attacks, citing data released recently by the US Federal Bureau of Investigation (FBI).
Canada topped the list, followed by India, United Kingdom, Australia, Brazil, Mexico, China, Japan and Germany.
Two of the country's neighbors in Southeast Asia – Malaysia and Singapore – also placed in the Top 20.
Lugtu stressed that cyber security in the Philippines remains weak considering such vulnerability to attacks in cyberspace and despite several laws enacted for this purpose.
The Philippines ranks 37th out of 193 countries in terms of cyber security preparedness based on the recent global security index report.
"In the legal aspect, we are ahead of other countries because we have already passed the Data Privacy Act, the E-Commerce Law and the Anti-Wiretapping Law. However, we are low in the cultural aspect because we are not well-informed of the dangers lurking online so that we easily open emails or click links without knowing the risks," Lugtu explained in a forum on Friday.
Lugtu attributed this to lack of information among Filipino cyberspace users on the different schemes of cyber attacks, including hacking, phising and malware.
A report of social media management platform Hootsuite and United Kingdom-based consultancy We Are Social Ltd. showed that Filipinos spent an average of four hours and 17 minutes per day on social media sites such as Facebook, Instagram, Snapchat and Twitter in 2017.
Lugtu said their organization, the Global Chamber Manila, has taken action to address this concern on cyber security.
The organization has set a one-day convention called A Forum on Cyber Security and the Internet of Things on Jan. 31, at the Enderun College in McKinley Hill, Taguig City to make people aware of the dangers in the internet.
Colin Christie, executive director of Global Chamber Manila, said world renowned cyber security expert Marc Goodman, author of the best-selling book "Future Crimes," will lead the forum and discuss the technological advances of the cyber world and its many pitfalls.
"Mr. Goodman is a global strategist and consultant focused on the profound change technology is having on security, business and international affairs."