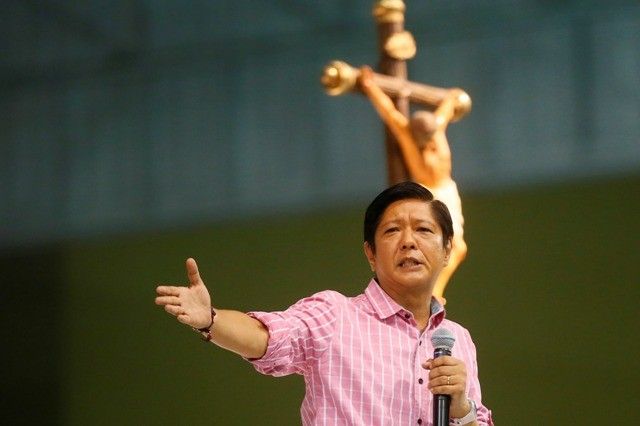 Former Sen. Bongbong Marcos said that there is no need for him to run in the coming 2019 elections as he has already won as the vice president.
AP/Bullit Marquez
Claiming VP victory, Marcos nixes 2019 Senate run
MANILA, Philippines — Former Sen. Ferdinand "Bongbong" Marcos Jr. on Wednesday stressed he won't run in the 2019 national elections.
Speaking at the Kapihan sa Manila Bay forum, Marcos said: "Why would I run for senator? I won already as vice president."
Marcos lost to Vice President Leni Robredo by a slim margin of about 260,000 votes in the 2016 national elections.
Marcos — son of ousted dictator Ferdinand Marcos, who was accused of committing massive human rights violations and corruption in more than two decades in office — has accused Robredo of cheating her way to the second highest office in the land.
The former senator told reporters that his focus is to push for his proclamation as vice president.
Marcos accuses SC justice of bias
He also aired grievances against Supreme Court Associate Justice Alfred Benjamin Caguioa, who, according to Marcos, has been issuing decisions skewed to favor "the other side."
He did not explain what he meant.
The SC sits as the Presidential Electoral Tribunal handling Marcos's poll protest.
According to an earlier STAR report citing unnamed sources, Marcos' protest was raffled to Caguioa, the last appointee of former President Benigno Aquino III to the high court.
Marcos' camp identified three pilot provinces for the electoral case: Robredo's home province of Camarines Sir, Iloilo and Negros Oriental. The ballot recount will start next month.