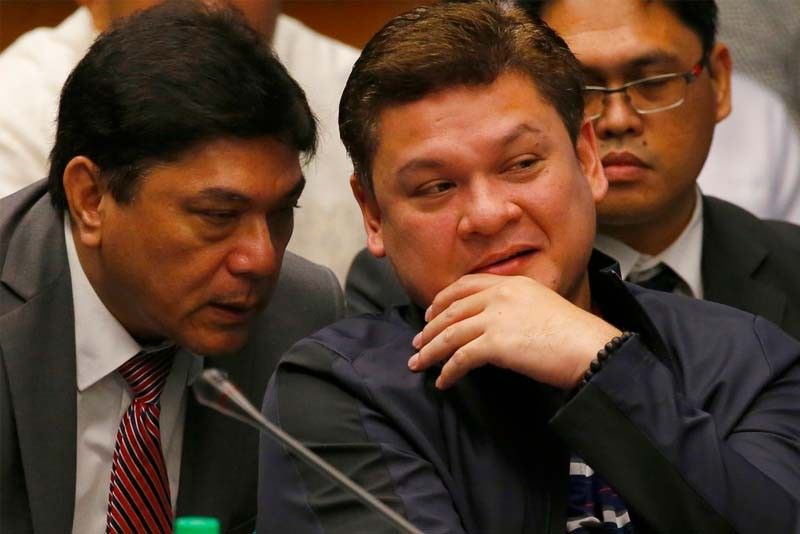 President Rodrigo Duterte has accepted the resignation of Davao City Vice Mayor Paolo Duterte, the Palace confirmed Friday. AP/Bullit Marquez, File
Duterte accepts son Paolo's resignation as Davao City vice mayor
MANILA, Philippines (Updated 5:27 p.m.) — President Rodrigo Duterte accepted the resignation of Davao City Vice Mayor Paolo Duterte, who was recently embroiled in allegations that he was involved in the smuggling of illegal drugs in the country, presidential spokesperson Harry Roque confirmed Friday.
The Davao City vice mayor announced on Christmas Day that he was stepping down from his post, stunning members of the town's city council meeting at the time to craft a response to a ferocious blaze that consumed a mall and the storms that devastated many local residents.
Paolo cited his implication in the P6.4 billion smuggling of crystal methamphetamine into the country and his public rift with his daughter on social media as some of his reasons for his decision effective December 25.
"Confirm[ed]," Roque answered when asked to confirm that the chief executive had indeed accepted his son's resignation.
"President Rodrigo Duterte has already accepted this afternoon the resignation of Davao City Vice-Mayor Paolo Duterte," he said in a separate statement.
Despite Paolo's announcement, his resignation rendered him only on leave as the president needed to give his imprimatur before the vice mayor could step down from his office, according to his sister and Davao City Mayor Sara Duterte-Carpio who said that she was supportive of whatever would make her brother happy.
That imprimatur came on Friday through Executive Secretary Salvador Medialdea's Jan. 5, 2018 letter stating that the chief executive had accepted Paolo's resignation, effective immediately.
"We refer to your letter tendering your resignation as Vice Mayor of Davao City. On behalf of President Rodrigo Roa Duterte, this is to inform you that your resignation is hereby accepted, effective immediately," Medialdea said.
In August, a Customs broker, Mark Taguba, who facilitated the smuggling of a large shipment of illegal drugs from China tagged Paolo and his brother in law, Manases Carpio, for their involvement in the transaction.
Taguba said that he had given money to Paolo's group to facilitate his transactions with the Bureau of Customs, one of the most corrupt in the government.
Then months later, Paolo and his daughter, Isabelle, had arguments after the latter posted critical comments on social media about her father.
Paolo shot back, said that his daughter was disrespectful and described her as a "disgrace."
In resigning, Paolo said that his parents taught him the value of a sense of propriety and stressed that this was one of those moments when he needed to protect his honor and that of his children.