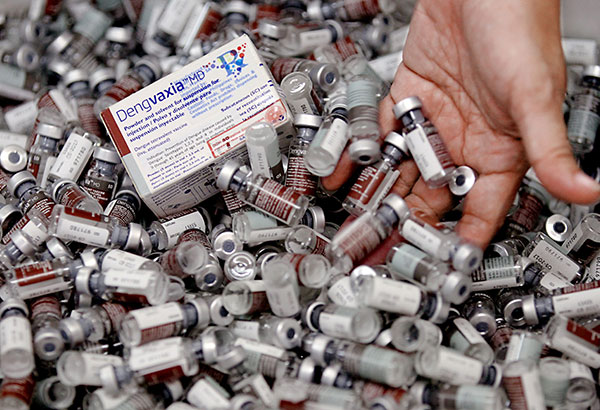 Photo shows empty vials of the dengue vaccine Dengvaxia at the Manila Central Vaccine storage room in Sta. Cruz, Manila, Dec. 4, 2017. Krizjohn Rosales
Even if intentions are good, those liable must answer for Dengvaxia mess — Palace
MANILA, Philippines — Those who committed wrongdoings that led to the Dengvaxia mess should be accountable even if the previous administration meant well when it administered the vaccine, Malacañang said Sunday.
Presidential Communications Secretary Martin Andanar said those who erred should not be allowed to escape accountability because Filipinos who received the vaccine are not guinea pigs.
"What is important here is…those who should be accountable should be accountable. The 800,000 people who received the vaccine is no joke. Even if the government meant well, let's say the past administration, but there must be accountability," Andanar told radio station dzMM.
"If in the future, there is a mistake in the purchase of vaccines for dengue (fever) or other ailments, nobody will be accountable? That can't be. Filipinos are not guinea pigs right?" he added.
The Dengvaxia vaccine implemented during the Aquino administration stirred controversy after it was revealed that it might have placed those who have not had been sick with dengue fever at risk of contracting a more dangerous strain.
The Aquino regime spent P3.5 billion to purchase the vaccines from French pharmaceutical firm Sanofi Pasteur. The administration has been accused of implementing the vaccine program even if studies on its safety have not been completed.
More than 730,000 students from Central Luzon, Calabarzon and Metro Manila received the vaccine.
Aquino told a Senate hearing last week that nobody had opposed the rollout of the vaccine program, which he said was meant to ensure the safety of Filipinos.
Defending his administration's vaccine program, Aquino stressed that it was the government's obligation to ensure the safety of its citizens. The former president said he was made to understand that the vaccine hurdled international and local processes meant to ensure its safety and efficacy.
Andanar said the government would seek a refund from Sanofi after the investigations are completed.
"We still have unused vials. They have to be refunded. Whether t refund the used ones will be the point of contention of the Department of Health and Sanofi because 700,000 to 800,000 people have received Dengvaxia," he said.
"We do not know if Sanofi will agree to a refund because they have their own arguments."