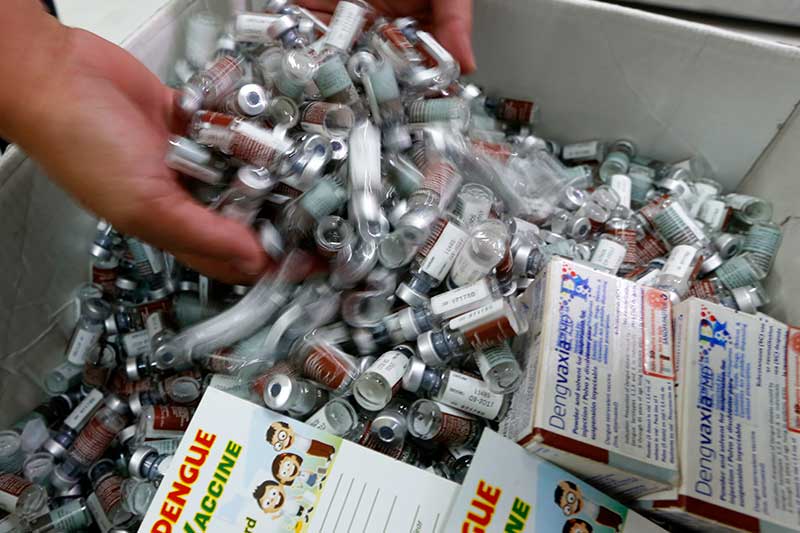 A Manila Health officer scoops empty vials of the anti-dengue vaccine Dengvaxia inside a vaccine storage room Tuesday, Dec. 5, 2017 in Manila, Philippines. The controversial vaccine, manufactured by Sanofi Pasteur and administered to more than 700,000 Filipino children, was put on hold by the Philippines last week after new study findings showed it posed risks of severe cases in people without previous infection. The drug was recalled Tuesday from local health centers following the controversy. AP/Bullit Marquez
Duterte leaves fate of Dengvaxia mess to Congress
MANILA, Philippines — President Rodrigo Duterte is not passing judgment on anyone with regard to the Dengvaxia vaccine mess but is hopeful that the truth about the controversy will come out.
Duterte said Congress or an independent body could investigate the issue, which is hounding former President Benigno Aquino III and some of his appointees.
"If there is a failure, let them sort it out. An independent investigation. Congress would do it. If they'd get to listen to the experts who are available here in the Philippines today. If not, they can always commission another body to come up with an independent study," Duterte told reporters Thursday in Fort Bonifacio.
"I am not prepared to pass judgment. I can only inquire and hope that everything will give us the truth because anything here in this planet requires truth," he added.
The Justice department is investigating the P3.5 billion contract to purchase Dengvaxia, which may have placed students who have not had any prior dengue fever at risk of contracting a more dangerous strain.
The Aquino administration has been accused of administering the vaccine despite warnings about the health risks it posed. It has also been accused of rushing the purchase of Dengvaxia from French pharmaceutical firm Sanofi Pasteur even if studies on the vaccine's safety have not been finished.
More than 730,000 students from Central Luzon, Calabarzon and Metro Manila were administered the vaccine.
Duterte believes Sanofi Pasteur will not destroy its reputation because of a blunder.
"I am not an expert and I do not assume that those deaths are already automatically connected with the side or toxic effects… unless there is an investigation and the person whom we are trying to attribute the responsibility is given the chance to be heard and to air their findings in public," Duterte said.
"The manufacturer, it is a reputable company in the world of drug manufacturing. That's it. So I do not think that they will be ready to destroy a billion-dollar business just for one lousy (blunder)," he added.
Duterte said he would also implement vaccines that would save lives if he were the president during the time when dengue fever cases were going up.
"You know, I have 10 grandchildren… If there is anything that can save the lives of anyone of them or any Filipino for that matter, considering my position, I will order the implementation.
Unless there is a study or a counter-statement to the efficacy and the danger of the drugs," he said.
"I do not have a choice if many people are dying and there's a vaccine and I do not have any advice not to implement it… I cannot blame anybody. I am not prepared to condemn anybody there simply because we bought it."
Duterte said he was presuming good faith in the actions of former health secretary Janette Garin, who was the health chief when the vaccination program was implemented.
"If you really think in good faith that you are doing the right thing, nobody but nobody can question you except your conscience," the president said.