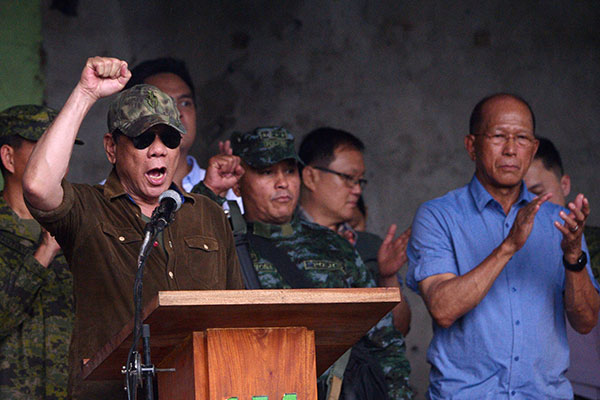 In a letter to Congress dated December 8, President Rodrigo Duterte asked the Congress to extend martial law for one more year citing the continuing threats of ISIS-inspired terrorists, local terrorist groups and the New People's Army. Ted Aljibe/AFP
'No constitutional basis for ML extension but Congress OK a given'
(philstar.com) - December 12, 2017 - 8:13am
MANILA, Philippines — A handful of lawmakers expressed their opposition to a proposed one-year extension of martial law in Mindanao, saying it has no constitutional basis.
Sens. Franklin Drilon, Francis Pangilinan and Bam Aquino on Tuesday said there is no basis to further extend martial law since there is no actual rebellion in Mindanao following the liberation of Marawi City in October.
In a press briefing after a closed-door meeting with Palace and security officials at the Senate on Tuesday, Senate Minority Leader Drilon said they were told that there is a continuing threat in the southern Philippines and that martial law has had a "psychological impact" in law enforcement.
He, however, said that these are not sufficient bases under the 1987 Constitution to extend martial law.
The communist New People's Army, which has been fighting to put up a revolutionary government since 1969, has armed fronts in Mindanao. An attack on police in Bukidnon province that also left civilians dead was among the reasons President Rodrigo Duterte scrapped peace talks with the communists, whom the government is now trying to legally declare as terrorists.
Rep. Gary Alejano (Magdalo party-list) also said that the reasons for the extension are "not constitutional grounds because they merely fall as threat or imminent danger."
Aquino also noted that the troops can still perform their jobs properly even without martial law.
In a letter to Congress dated December 8, President Rodrigo Duterte asked Congress to extend martial law for one more year citing the continuing threats of ISIS-inspired terrorists, local terrorist groups and the NPA.
Martial law was declared on May 23, within hours of the Maute attack on the capital of Lanao del Sur. The extension was approved by Congress in July until December 31 this year.
READ: Duterte asks Congress to extend martial law for 1 more year
Drilon: Congress approval of martial law extension a 'given'
The Senate minority leader believes Congress will grant Duterte's request to extend martial law in Mindanao for another year.
"Members of Partido Demokratiko Pilipino–Lakas ng Bayan, the supermajority in both houses, will support President Duterte's request. The authorization of the extension is already a given," Drilon said.
Aquino, moreover, urged fellow lawmakers who oppose the extension to speak up on the matter and explain why the extension has no sufficient basis.
House Speaker Pantaleon Alvarez (Davao del Norte) has said more than once that Mindanaons support the imposition of martial law and that those from the Visayas and Luzon should stop opposing it.
The House of Representatives and the Senate is expected to hold a joint session this week to discuss Duterte's request for extending martial law in Mindanao.