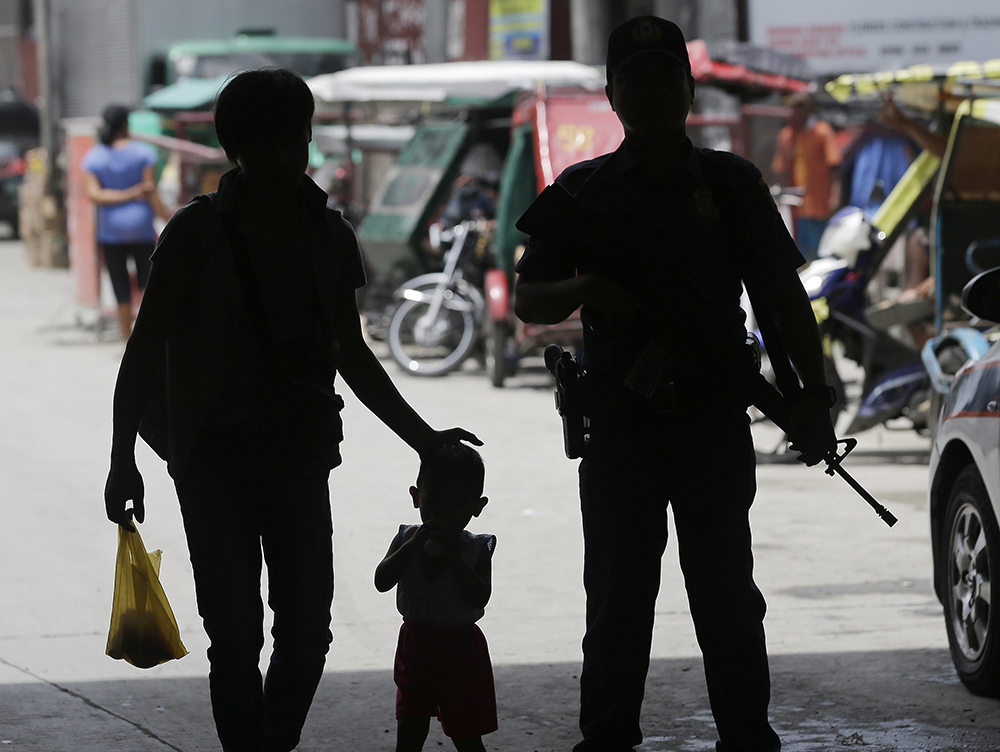 In this May 24, 2017 photo, a policeman stands at a checkpoint in Manila, Philippines as the Philippine National Police is placed under full alert status following the declaration of martial law in Mindanao southern Philippines. President Rodrigo Duterte warned in May that he'll be harsh in enforcing martial law in Mindanao as he abruptly left Moscow last to deal with a crisis at home sparked by a Muslim extremist siege on a city, where militants burned buildings overnight and are feared to have taken hostages. AP/Aaron Favila, File
Karapatan denounces martial law extension in Mindanao
MANILA, Philippines — Human rights group Karapatan on Monday denounced President Rodrigo Duterte's request to Congress to allow him to extend martial law in Mindanao for another year.
In a press statement, Karapatan Secretary General Cristina Palabay said Duterte's move to extend the implementation of martial law in Mindanao despite the liberation of Marawi City is a "dangerous precedent" for a possible martial law declaration nationwide.
"What, then, is the basis for extending martial law for another year? This is a dangerous precedent that inches the entire country closer to a nationwide declaration of martial rule," Palabay said.
"If this is allowed in Congress, speculation will be enough to put the entire country under martial law, creating an environment for State security forces to continue violations without accountability," she added.
Palabay said martial law in Mindanao has "paved the way for the intensification of rights violations – both within and outside of Marawi."
Malacañang on Monday submitted to Congress, Duterte's letter asking for the extension of martial law for one more year. Duterte made the request upon the recommendation of the Armed Forces of the Philippines.
Citing its own records, Karapatan said that since Duterte's imposition of martial law in Mindanao on May 23, the group has documented 29 victims of extrajudicial killings in the region.
Karapatan said most of the victims were members of local peasant organizations and affiliates of the Kilusang Magbubukid ng Pilipinas. The group said they were "targeted for their local campaigns for genuine agrarian reform and against militarization."
Karapatan also documented 15 cases of torture, 23 victims of frustrated extrajudicial killings, 58 victims of illegal arrest and detention and 335,686 victims of indiscriminate gunfire and aerial bombings.
The group also cited the forced evacuation of 401,730 individuals, 16,612 of which were documented outside of the Marawi siege, mostly in the regions of Caraga, Southern Mindanao, and SOCKSARGEN.
Palabay described as "hogwash" the statement of AFP Public Affairs Office chief Col. Edgard Arevalo that the military would ensure there would be no abuses from its ranks should the martial rule be extended.
"This is all hogwash, of course...Many organizations in different regions in Mindanao, particularly local peasant and indigenous organization, are targeted for their campaigns against militarization and for agrarian reform," Palabay said.