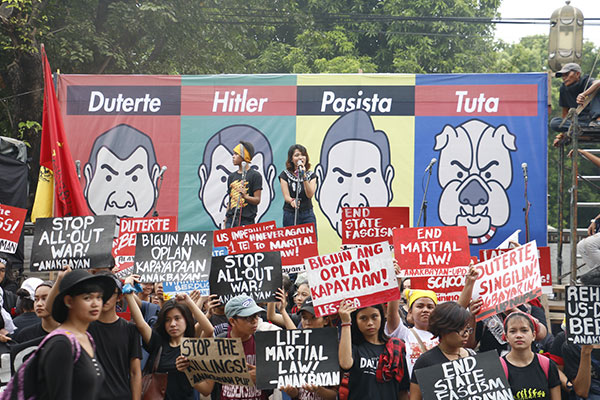 Movement Against Tyranny will stage a rally on December 10 at the Bonifacio Shrine in Manila from 3 to 5 p.m. Philstar.com/Efigenio Toledo IV
Cause-oriented coalition to hold human rights protest
(Philstar.com) - December 6, 2017 - 8:27am
MANILA, Philippines — Movement Against Tyranny will hold a rally condemning the "deteriorating" rights situation in the country on December 10, which marks the International Human Rights Day.
The Sunday protest will also be held "with a heightened sense of urgency" following the killings of human rights activists such as Catholic priest Fr. Marcelito Paez in Nueva Ecija, Karapatan coordinator Elisa Badayos in Negros Oriental and born again pastor Lovelito Quiñones in Mindoro Occidental.
"We are inviting the public to stand with us on December 10 to uphold human rights and reject tyranny and dictatorship," MAT said in a statement released Wednesday.
The rally will be staged at the Bonifacio Shrine in Manila from 3 to 5 p.m.
'Threat of Duterte's tyranny'
The gathering will likewise denounce President Rodrigo Duterte's "tyrannical ways" and his idea of a revolutionary government, a form of self-coup disabling the current government system and the Constitution.
"The final push for Duterte's dictatorship is the establishment of a 'revolutionary government' to arrogate unto himself absolute power over the executive, legislative and judicial branches of government, including the constitutional commissions and local government units," MAT said.
It also cited the termination of peace talks with the National Democratic Front of the Philippines and the tagging of the Communist Party of the Philippines and its armed wing the New People's Army as terrorists, as well as the efforts to impeach Chief Justice Ma. Lourdes Sereno and Ombudsman Conchita Carpio-Morales.
Several times in his public remarks, Duterte has threatened to declare a revolutionary government. But like in discussing other issues before, he has flip-flopped on this proposal as well.
"The wheels of tyranny are turning. Unless we stop it, Duterte's fascist dictatorship will be upon us in no time," MAT said.
The coalition added: "Our people's long and arduous struggle for freedom and democracy, respect for human rights and a lasting peace based on justice, cannot be achieved by desecrating the very aspirations that we aim to achieve."
MAT seeks to break the culture of impunity and fear that convenors say Duterte's war on drugs, all-out war approach to armed conflicts and martial law in Mindanao has brought to the country.
Among the convenors of the movement are former Sen. Rene Saguisag, former Bayan Muna party-list Rep. Neri Colmenares, former Quezon Rep. Erin Tañada, Free Legal Assistance Group Chairman Jose Manuel Diokno, activist nun Sr. Mary John Mananzan, University of the Philippines Diliman Chancellor Michael Tan and veteran journalist Vergel Santos.