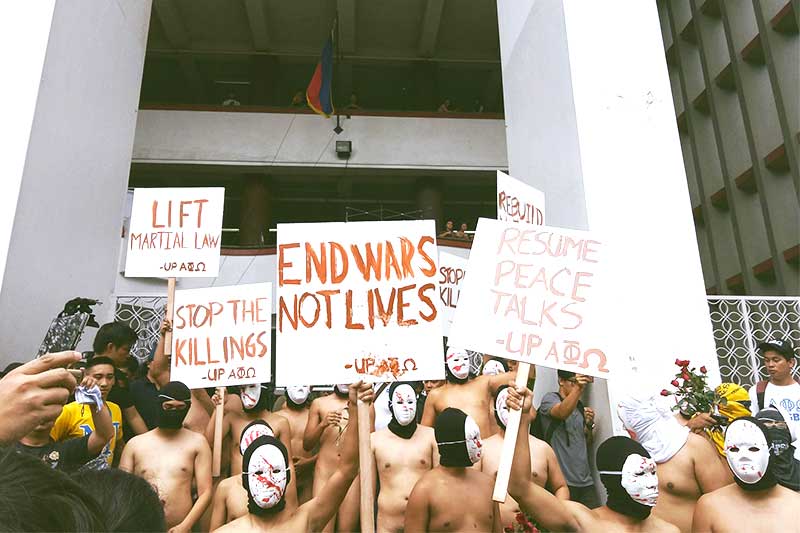 This year, the Oblation Run of the Alpha Phi Omega fraternity of UP Diliman bears the theme "End Wars, Not Lives." Eireen Carlos
UP Oblation run calls for end to killings, rebuilding Marawi
MANILA, Philippines — Members of the Alpha Phi Omega (APO) fraternity of the University of the Philippines Diliman appealed to the government to be open to dissent and criticism as they hold their annual naked run.
The traditional Oblation Run or the "ritual dance of the brave" is a venue for the exposition of the most pressing issues of the year.
For 2017, APO expressed concerns over the "climate of fear" that the government had created amid extrajudicial killings of drug suspects, the conflict in Marawi City, declaration of martial law in Mindanao and the cancelation of peace negotiations with communists.
Oblation Run at UPD pic.twitter.com/X8VMsWjz9Z

— Paul Jerick (@PaL_Jer) December 1, 2017
I thought I missed what would've been my last Oblation Run as a UP student, then this happened while I was on my way to buy lunch.

(DM for the unedited video JK HAHAHAHAHA) pic.twitter.com/AaN1SrhYgg

— Paco Santiago ??? (@fmrsantiago) December 1, 2017
Didn't get to take a good picture kasi I wasn't near enough #OblationRun pic.twitter.com/6XPr1vciXj

— miao (@ailamae12) December 1, 2017
APO stressed its advocacy for a community-based approach in the so-called war on drugs instead of allowing the police and vigilantes to kill drug suspects without due process.
"It must commit to rehabilitating addicts, applying restorative justice on those proven to have been involved in drugs, and pursuing the actual drug kingpins standing at the top of nation's crime pyramids. It is necessary that the government anti-drug movement should build lives, not destroy them," APO said in a statement.
The fraternity also asked the government to rebuild war-torn Marawi in an efficient and timely manner, contrary to the approach that the government took in the wake of super typhoon Yolanda in 2013.
"Any and all plans for the city's recovery should prioritize the needs of people, rather than individual or commercial interests," the statement read.
APO is also advocating for the lifting of martial law in Mindanao, citing "deeper insecurity for the indigenous peoples and national minorities in the island" and "lack of goodwill towards the belligerent groups in that area."
The fraternity also appealed to the government peace panel to resume the peace negotiations with the National Democratic Front.
Duterte had formally terminated the peace negotiations with communists after the rebels' supposed failure to display sincerity to the peace process.
The first Oblation Run was held in September 1977 when two men ran naked in front of Palma Hall in UP Diliman in defiance of martial law.