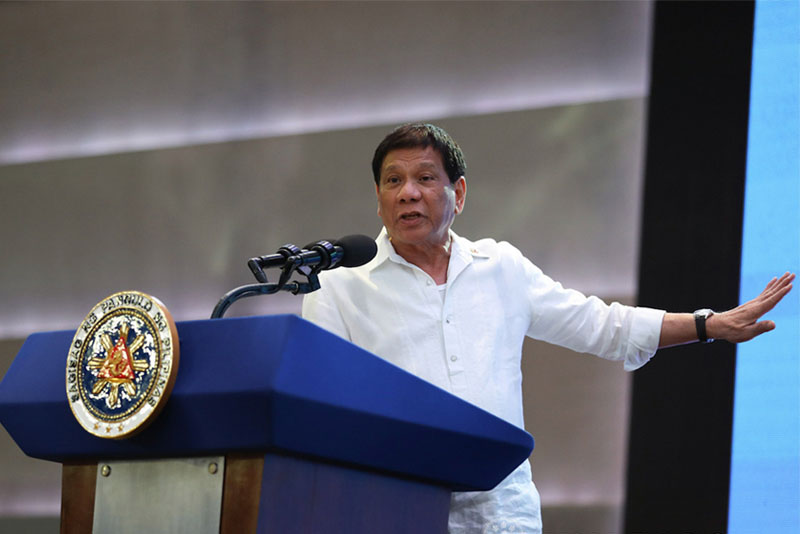 If the government will be in peril due to the efforts of the Left and his critics, President Duterte said he would not hesitate to declare a revolutionary government to quell destabilization moves against his administration. PPD/Robinson Niñal
Palace: Duterte rejects revolutionary gov't but supporters can hold peaceful rally
(philstar.com) - November 30, 2017 - 3:15am
MANILA, Philippines — Despite President Rodrigo Duterte's contradicting statements on declaring a revolutionary government, Malacañang on Wednesday urged those who would join rallies backing such a form of self-coup to observe peace and order.
"We ask those who would join in today's demonstrations calling for a revolutionary government to conduct their rallies in a peaceful, orderly manner," presidential spokesperson Harry Roque said in a statement.
"The president has earlier said that he does not want a revolutionary government. This, however, does not mean he would prevent citizens from expressing their support for a revolutionary government," Roque added.
"The chief executive in numerous occasions articulated that he allows protests and other forms of mass action as long as public safety and convenience are not compromised."
Several times in his public remarks, Duterte has threatened to declare a revolutionary government.
But like in discussing other issues before, the chief executive has flip-flopped on this proposal as well.
A revolutionary government will allow the president to consolidate authority to enact what he claims as the kind of change the country needs while quelling a supposed conspiracy by communists, the Liberal Party and other factions to destabilize his administration.
EXPLAINER: Can Duterte declare a revolutionary government?
Anti-government groups and supporters of the administration have set separate rallies in various parts of the country on November 30, Bonifacio Day.
According to a security official who asked not to be named, pro-government groups plan to assemble more than 300,000 supporters at the Don Chino Roces Bridge (Mendiola) near the presidential palace to convince Duterte to declare a revolutionary government.
"Aside from Mendiola, pro-revolutionary government rallies are currently being organized by several rightist groups on key cities across the country," the security official said.
The security official added that anti-government groups are also being monitored as they are also planning to hold protest actions in key areas of the country on Bonifacio Day.
Aside from Mendiola, anti-government groups are expected to stage demonstrations at the Liwasang Bonifacio in Manila and the Bonifacio Monument in Caloocan City.
Among issues expected to be raised by anti-government rallyists is Duterte's decision to terminate the peace talks with communist rebels.
"Police will observe maximum tolerance and exercise highest restraint," Roque said in the same statement.
Malacañang earlier distanced itself from the pro-revolutionary government rally on November 30, saying this was organized by people who want to exercise their freedom of expression.