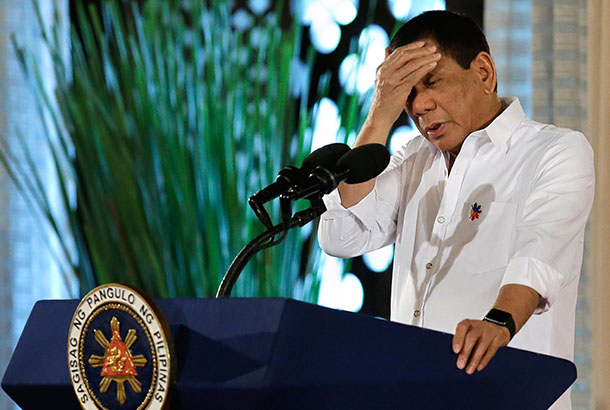 President Rodrigo Duterte made this clarification last Saturday in Davao City, saying, "Until there is a revolution 'yung ma-ano, malabo (it is unlikely)." AP Photo/Aaron Favila, File
'Revolutionary gov't a last resort'
MANILA, Philippines — For a revolutionary government to take place there must first be a revolution.
President Duterte made this clarification last Saturday in Davao City, saying, "Until there is a revolution 'yung ma-ano, malabo (it is unlikely)."
He would only declare a revolutionary government if "things go out of control" and there is danger of a violent overthrow, he said.
Duterte accused the media of "chopping" his statements and leaving out the condition that would warrant such declaration.
"You are always shortchanged of quotations. I said before and I repeat now, and I know it would not be taken into account again. I said, if things go out of control at tumagilid 'yung gobyerno, 'yun ang predicate ko (and the government is placed at risk, that is my predicate). It was not an outright statement," he added.
Earlier, Duterte said he would set up a revolutionary government and declare all state posts vacant if the country plunges into chaos because of alleged destabilization plots against him.
"If I declare a revolutionary government, arestado kayong lahat. Hindi ako nananakot (All of you will be arrested. I am not scaring you)," Duterte told state-run television network PTV 4 last Oct. 13.
"If I think you are about to take over the government, you destabilize the government, bantay kayo (watch out)," he added.
"If I see that my nation tilts into chaos and is really destabilized, I will declare a revolutionary government."
The remark drew flak from the opposition who accused the President of being paranoid and of trying to "annihilate democracy."
Duterte claimed that only parts of his statement that were "good for public criticism" came out in news reports.
"Because they would always omit the predicate—kung tumagilid ang bayan ko (if my country is in danger) and I see revolutionaries bringing firearms on the streets, well, maybe, huwag ka nang magdalawang-isip (do not think twice), I will declare a revolutionary government," he said.
"Ayaw ko ng (I do not like) martial law. Maraming (too many) restrictions. Todohin ko na lang (I might as well go full force)… Do not do something that will cause or even attempt to topple government, hindi ako papayag ng ganoon (I won't allow that to happen)."
The 72-year-old Duterte has repeatedly denied seeking to perpetuate himself in power, saying he is not happy being President because of the demands of the job.
Last month, Solicitor General Jose Calida claimed that the opposition, communist rebels, and some members of the clergy are planning to oust Duterte but did not disclose their identities.
Business group against 'rev gov'
The Makati Business Club (MBC) is against having a revolutionary government, citing its negative impact on the economic gains made by the country.
In a statement yesterday, the MBC said it welcomes the statements made by President Duterte, Defense Secretary Delfin Lorenzana, and Armed Forces chief General Leonardo Guerrero that there are no plans to declare a shift to revolutionary government.
The business group said it "stands strongly with the country's civilian and military leaders in putting our trust in our democratic institutions and rejecting revolutionary government. We thank the President for clarifying previous statements on this issue."
"MBC believes that a shift to a revolutionary government will challenge our Constitution and trigger political instability and economic uncertainty," the business group said.
In particular, it said a revolutionary government would reverse the economic progress achieved by the country in the past years.
Just last week, the National Economic and Development Authority (NEDA) announced that the domestic economy grew 6.9 percent in the third quarter, surpassing market expectations of 6.6 percent, as well as the revised 6.7 percent expansion in the second quarter.
Socioeconomic Planning Secretary and NEDA chief Ernesto Pernia said the latest result makes the Philippines among the fastest growing economies in the region.
He said the Philippines likely placed second in Asia, next to Vietnam's 7.5 percent but ahead of China's 6.8 percent and Indonesia's 5.1 percent.
MBC said the administration is on the right track in pursuing fairer and stronger revenue and robust infrastructure spending and as such, middle-income, lower-income and young Filipinos stand to benefit the most from these efforts.
"We will all lose in an unpredictable business environment," MBC said.
Earlier, the Foundation for Economic Freedom which groups economists, former government officials and businessmen, also said it opposes the declaration of a revolutionary government as such would have negative implications to the country's investment climate and overall economic progress. With Louella Desiderio