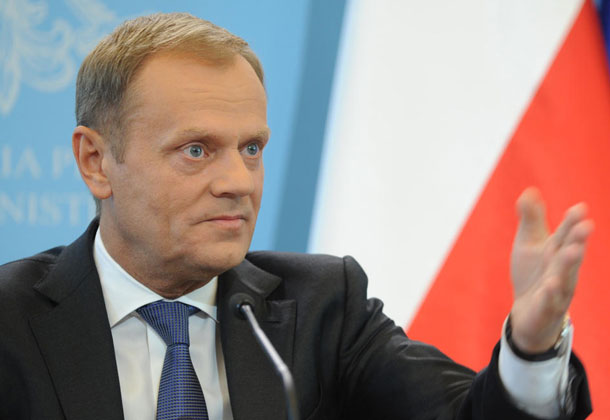 "Further enhancing our relations based on common interests and shared values of democracy, human rights, and rule of law is a priority for the EU," European Council President Donald Tusk said at the 40th ASEAN-EU Commemorative Summit. AP Photo/Alik Keplicz
EU chief: Developing ties based on human rights still a priority
(Philstar.com) - November 14, 2017 - 9:24am
MANILA, Philippines — Deepening ties based on respect for human rights and the rule of law remains a "priority" of Europe, the bloc's president told leaders of Southeast Asian nations on Tuesday amid strong calls to address regional rights concerns.
"We remain committed to a strong and cohesive [Association of Southeast Asian Nations] developing in its own character, in the best interest of regional prosperity, stability and security," European Council President Donald Tusk said at the 40th ASEAN-EU Commemorative Summit.
SPECIAL COVERAGE: ASEAN Summit in the Philippines
"Further enhancing our relations based on common interests and shared values of democracy, human rights, and rule of law is a priority for the EU," Tusk added.
"The potential for greater engagement is enormous. From trade to climate, from maritime security to counter-terrorism. Together, we can make our two regions stronger."
In October, a working group representing the ASEAN and the EU met to revive plans for having a free trade agreement between the two economic blocs.
If settled, an FTA with ASEAN would allow the EU to link with the world's seventh biggest market.
In 2009, the first EU-ASEAN trade talks were stopped as both sides encountered complexities in establishing common standards and resolving wealth disparities.
Rights issues a hindrance to free trade pact
Questions over rights record of many ASEAN economies had also become a challenge in forging an FTA given EU's requirement to consider human rights in its trade policies.
"Many of our interests coincide and still many of the challenges we face," Tusk said.
"Forty years on, I am personally very glad we have the ASEAN-EU ready and available as a bridge between Asia and Europe in troubling times," he added.
Among the human rights issues recently hounding ASEAN were the Philippines' bloody "war on drugs," the Rohingya crisis in Myanmar, the crackdown on dissenters in Vietnam and Cambodia, and junta rule in Thailand.
Philippine President Rodrigo Duterte, who presided over Tuesday's ASEAN-EU meet, had repeatedly berated EU for raising alarm over reported extralegal killings in his brutal anti-drug campaign.
ASEAN as a whole represents the EU's third largest trading partner outside the bloc with more than €246 billion of trade in goods and services in 2014.
Meanwhile, the EU is ASEAN's second-largest trading partner after China, accounting for around 13 percent of ASEAN trade.
Foreign direct investments from the EU rose 46 percent to $30.5 billion, while those from China went up 44 percent to $9.2 billion, data from the latest ASEAN Investment Report show.
The report said significant FDIs from the Netherlands, Ireland, Luxembourg, Denmark, Spain and France pushed up investment in ASEAN from the EU economies.
READ: EU devotes €2 billion in bilateral cooperation with ASEAN, calls for closer ties