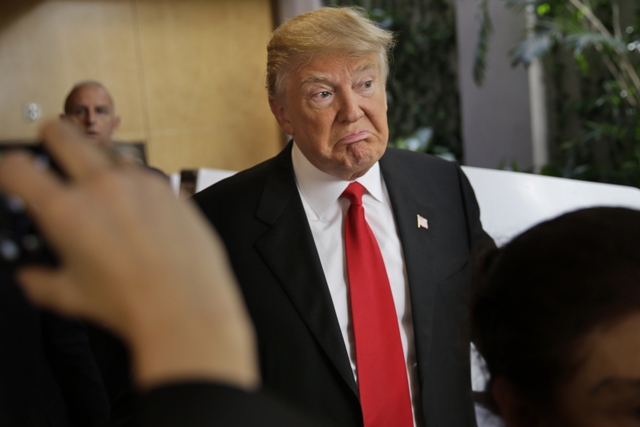 US President Donald Trump mentioned "territorial expansion" as among evils such as drugs, smuggling and terrorism. AP/Seth Wenig, File
Trump pushes open shipping lanes in Asia
(The Philippine Star) - November 10, 2017 - 4:00pm
'Freedom of navigation, overflight needed for economic security'
DA NANG – US President Donald Trump yesterday called for "respect for the rule of law" and individual rights, freedom of navigation and overflight – including open shipping lanes – as he addressed threats to global security.
"The United States has been reminded time and time again in recent years that economic security is not merely related to national security. Economic security is national security. It is vital… to our national strength," Trump said during the Asia-Pacific Economic Cooperation-Chief Executive Officers (APEC-CEO) Summit here.
"We also know that we will not have lasting prosperity if we do not confront grave threats to security, sovereignty, and stability facing our world today," Trump said without mentioning the South China Sea or other territorial and maritime disputes involving various countries, including China.
This city itself sits on the shore of the South China Sea, one of the region's biggest security headaches and where China's neighbors challenge its sweeping claim to most of the waterway as having no basis in law.
Trump mentioned "territorial expansion" as among evils such as drugs, smuggling and terrorism.
Beijing has been accused of massive reclamation and militarization in the South China Sea that it claims almost in its entirety, which could threaten freedom of navigation and overflight in the region.
The Philippines and other Association of Southeast Asian Nations member states (ASEAN) Brunei, Vietnam, Indonesia and Malaysia are among those locked in maritime disputes with China over areas in the South China Sea.
The Philippines has won in an arbitral tribunal when it sought to affirm its exclusive economic zone in the area, but the ruling has been ignored by China.
President Duterte said here that he intended to press his Chinese counterpart Xi Jinping to agree to a code of conduct on the South China Sea in their meeting set today.
Trump talked about the dangers posed by North Korea and urged "every responsible nation to stand united in declaring that every single step" that it takes toward more weapons "is a step it takes into greater and greater danger."
"The future of this region and its beautiful people must not be held hostage to a dictator's twisted fantasies of violent conquest and nuclear blackmail," Trump said.
In addition, Trump said countries must uphold principles that have benefited everyone, creating stability and building trust, security, and prosperity among like-minded nations.
"We must also deal decisively with other threats to our security and the future of our children, such as criminal cartels, human smuggling, drugs, corruption, cybercrime and territorial expansion," he said.
"As I have said many times before: all civilized people must come together to drive out terrorists and extremists from our societies, stripping them of funding, territory, and ideological support. We must stop radical Islamic terrorism," he added.
He urged nations to work together for a peaceful, prosperous and free Indo-Pacific.
Stop construction and militarization
For his part, US Secretary of State Rex Tillerson said his government emphasized to China that the US position on main maritime security issues and the South China Sea remains unchanged and Washington insists on a stop in construction and militarization of outposts.
Ahead of the East Asia Summit (EAS) in Manila, Tillerson said the US side had a frank exchange with China in a meeting during Trump's visit to Beijing on Thursday.
"We insist on upholding freedom of navigation that claims to be consistent with international law, and that claimants should stop construction and militarization of outposts in order to maximize prospects for successful diplomacy," Tillerson said.
The US said it has a comprehensive freedom of navigations (FONOPs) program under which the American forces challenge excessive maritime claims around the globe.
Washington said the FONOP is not about any one country and not about making a political statement.
In August, the US acknowledged that the ASEAN was under "tremendous" pressure on the South China Sea issues but the regional bloc still "held on to its principles,"defeating attempt to drop "militarization," self-restraint" and "land reclamation" from the joint communique at the end of the meeting in Manila.
No Trump, Duterte meeting so far
Trump praised the Philippines for the big steps it had taken in terms of gender equality as well as countries in the Indo-Pacific region for the progress they made over the last century.
"The Philippines has emerged as a nation of strong and devout families. For 11 consecutive years, the World Economic Forum has ranked the Philippines first among Asian countries in closing the gender gap and embracing women leaders in business and politics," Trump said.
Duterte has yet to meet Trump as he missed the opportunity during the welcoming ceremonies for Asia-Pacific Economic Cooperation - Business Advisory Council (ABAC) dialogue with Vietnam President Tran Dai Quang.
The close encounter between the two leaders was much-awaited since it will be the first time for them.
Trump and Duterte have exchanged pleasantries but only in their past two phone conversations.
From his bilateral meeting with Russian President Vladimir Putin yesterday afternoon, Duterte attended the ABAC but Trump was not around.
The two may still be able to meet during the APEC gala dinner and cultural presentation late yesterday.
If Duterte misses Trump here, the two leaders will have plenty of time to catch up during the ASEAN and East Asia Summits in Manila from Nov. 12 to 14 where they will be holding a bilateral meeting.
Last Thursday night, Duterte said he was excited to meet Trump here.
"Yes, of course because I feel that we share so many ideas along the same line of problems of governance. I know that I'd have an interesting time with him," Duterte.
At the same time, Duterte said he would want Trump not to meddle in the Philippines' drug war, which had raised various concerns from human rights activists due to drug-related executions.
"Lay off, sir. That's my business," Duterte said when asked about what he would tell the US leader if they have a chance to talk, and the latter brings up the drugs and human rights issues.
While he is looking forward to meeting Trump, Duterte did not have good words for former US president Barack Obama.
Duterte described Obama as "maitim" (dark) and "mayabang" (arrogant) during his talk with over 100 members of the Filipino community in this coastal city and tourism hub.
The remarks were reportedly omitted in the official transcript of the Presidential Communications Operations Office (PCOO) and the livestream video posted on its social media accounts by the Radio-TV Malacañang.
The Chief Executive also asked why many Filipinos admired Obama.
Duterte said the critics should look at the two sides of the story.