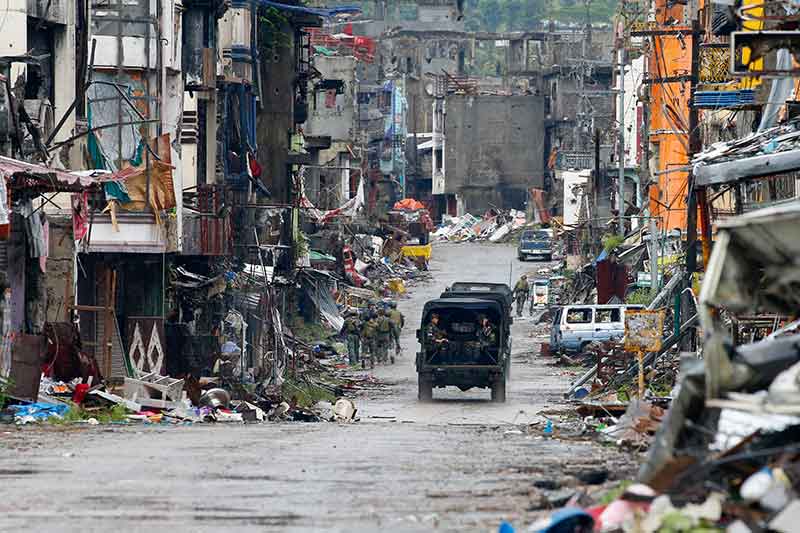 Under Administrative Order 9, the chairman of the Housing and Urban Development Coordinating Council will heads the task force and has operational control, supervision and overall responsibility for Marawi reconstruction and rehabilitation efforts. AP/Bullit Marquez, File
Marawi rehab to start by mid-2018, says Bangon Marawi chief
(philstar.com) - November 10, 2017 - 6:40am
MANILA, Philippines — Rehabilitation and rebuilding in battle-scarred Marawi City will start in the 2nd semester of 2018, according to Task Force Bangon Marawi chairperson Eduardo Del Rosario.
Del Rosario, who is also the Housing and Urban Development Coordinating Council chief, said on Monday that 201,785 residents of the provincial capital of Lanao del Sur were affected by five months of fighting between government forces and militant terrorists.
Identified as important and immediate needs are food, water, electricity, housing, livelihood, education, places of worship.
Marawi City Mayor Majul Usman Gandamra, for his part, shared that a total of 78,466 families were displaced by fighting and 86,772 children had to stop going to class because of the siege on Marawi by the Maute and Abu Sayyaf terror groups.
READ: Feeding program launched as Marawi schools start to open
"Assessment of actual damage has started," he said, adding that it there is a need to "ensure demolition and clearing are accomplished for the safety of people."
The government is looking into providing Marawi survivors 500 to 600 shelters by December to help ease pressure on crowded evacuation centers.
Del Rosario and Gandamra were both speakers at the United for Marawi Forum in Makati on Friday morning.
READ: Rody focuses on Marawi rehabilitation
Agriculture and trading as targets for economic rehabilitation
The economy of Marawi is largely of a community dependent on agriculture, Del Rosario and Gandamra both said.
Gandamra said that 13 barangays in Marawi City are agricultural in nature. He stressed that rehabilitating the city's agriculture sector will "not only help food security" but will also help the citizens regain an economic foothold.
READ: Marawi evacuees start going home
"Invest on the agriculture infrastructure and post-harvest facilities, as well as build trading centers," the mayor also said.
"We should not be content by being mere producers, but be suppliers," Gandamra added.
The mayor said that he is aware that "the need ahead of us is a gargantuan task."
"We cannot fail our poeple. The least that we could do is to facillitate the return and help them rebuild their lives through economic activities."
Although Marawi City was declared liberated on October 23, mopping up and clearing operations continue. Del Rosario said later Friday morning that there are around 50 Maute stragglers in parts of the city.