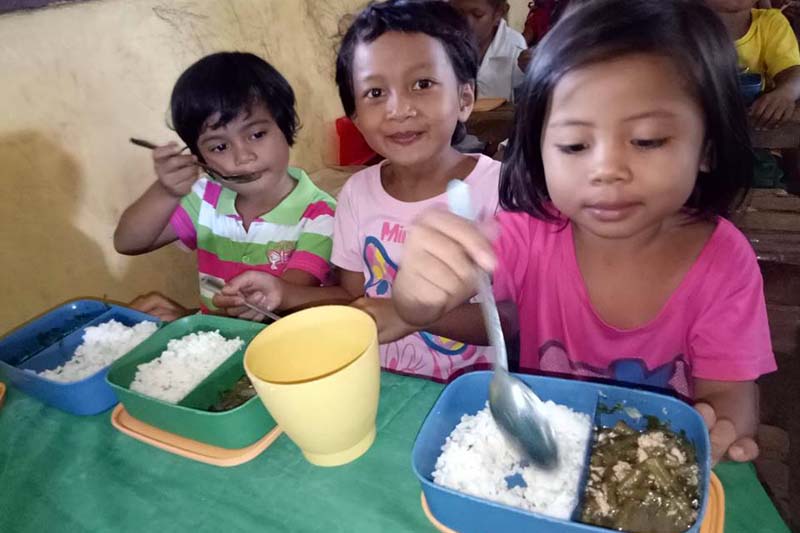 Children in re-opened Marawi schools join an initial feeding activity of DepEd-ARMM last Tuesday. John Unson
Feeding program launched as Marawi schools start to reopen
John Unson
(philstar.com) - October 27, 2017 - 3:29am
LANAO DEL SUR, Philippines — Children in four re-opened schools in Marawi City will be served with nutritious meals regularly to keep them healthy while recovering from trauma, officials said Friday.
Ana Zenaida Unte, assistant schools superintendent for Marawi City, said pupils in the four schools were initially supplied last Tuesday with "halal" food prepared by teachers and volunteers.
The term halal is Arabic for food that Muslims can eat.
Classes in the Mipaga, Bito, Rorogagus and Pendolonan Elementary Schools resumed only recently with clearance from the police and the military.
All four schools failed to open last June due to the deadly encounters in Marawi City between soldiers and combined Maute and Abu Sayyaf gunmen that erupted on May 23 and lasted until October 23.
"We already requested clearance for the re-opening of more schools that failed to open in June due to the conflict," Unte said.
More than half of the 69 schools in Marawi City were affected by the hostilities that erupted when Maute and Abu Sayyaf gunmen laid siege to barangays there and displayed the flag of the Islamic State of Iraq and Syria, sparking deadly clashes with responding Army and police units.
The Department of Education-Autonomous Region in Muslim Mindanao has been feeding since July thousands of school children from Marawi City now grouped in temporary learning sites in nearby towns.
The project is a joint initiative of the office of DepEd-ARMM regional secretary John Magno, Gawad Kalinga and the World Food Programme, a humanitarian outfit of the United Nations.
Gawad Kalinga, a Philippine poverty alleviation and nation-building movement, is also known as the Gawad Kalinga Community Development Foundation.
Unte said 800 pupils benefited from their initial feeding activity on Tuesday in the four re-opened schools.
"It was an expansion of our current feeding program for school children displaced by the trouble in Marawi," Unte said.
She said the main benefactor of their continuing feeding activity since July is DepEd-ARMM, which has been monitoring relief work for thousands of conflict-affected Marawi children.
"We will complement this feeding of children in re-opened Marawi schools with activities to heal them from mental pains and tension caused by the five-month conflict that displaced them for months," Magno said.
Besides the feeding program, DepEd-ARMM has also been operating makeshift learning facilities for school children in safe areas outside of Marawi City, managed by teachers who are evacuees themselves.
Magno on Friday said hundreds of school children from conflict-stricken barangays in Marawi City also joined last week's Global Handwashing Day in Lanao del Sur.
"The atmosphere in some schools is now returning to normal. Children are again in school uniforms and classes are back to regular mode," Magno said.
The event is an annual global handwashing advocacy day meant to increase awareness on the importance of washing of hands with clean water and soap among children and adults to prevent the spread of diseases in the local communities.
Unte said the regional office of DepEd-ARMM supported extensively the conduct of the handwashing day in Lanao del Sur province last week.
Marawi City is the capital of Lanao del Sur, which covers 39 towns.