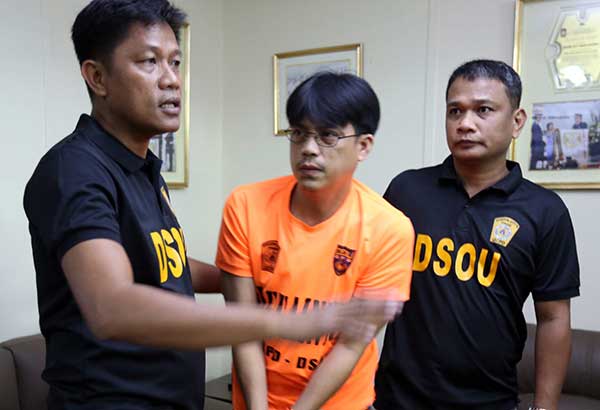 The official, who asked not be named because of the nature of his job, said agents of the National Intelligence Coordinating Agency (NICA) based in Metro Manila who spearheaded the arrest of 42-year-old businessman Rasdi Hamid Malawani are still conducting intelligence build-up against other groups and personalities. Boy Santos, File
Arrest of trader part of ASEAN security operations
Jaime Laude
(The Philippine Star) - October 28, 2017 - 4:00pm
MANILA, Philippines — The arrest in Quezon City last Friday of a suspected financier of the Islamic State-inspired Maute terrorist group is part of the government's operations against possible terror threats to the forthcoming Association of Southeast Asian Nations (ASEAN) summit in the country, a senior anti-terror official bared yesterday.
The official, who asked not be named because of the nature of his job, said agents of the National Intelligence Coordinating Agency (NICA) based in Metro Manila who spearheaded the arrest of 42-year-old businessman Rasdi Hamid Malawani are still conducting intelligence build-up against other groups and personalities.
"Yes, it's part of our ongoing security preparations for the ASEAN summit next month," he said when asked if Malawani's arrest has links to the ongoing security operations against suspected individuals with perceived capabilities in sowing terror activities during the ASEAN summit.
World leaders are expected to be in Manila next month for the ASEAN summit to be held at Clark Field in Pampanga as well as in Metro Manila.
Malawani, who also goes by the name Rasi Macabangkit, was nabbed during a raid at his residence at Greenfield Subdivision in Barangay Maligaya, Novaliches, Quezon City the other day.
NICA agents backed by Quezon City policemen and elements of naval intelligence nabbed Malawani for illegal possesion of firearms and explosives.
The anti-terror official said government agents were able to establish that Malawani took over the businesses of the Maute family in Metro Manila, following the arrest in June of the Maute matriarch, Farhana Ramoto Maute, in Lanao del Sur at the height of the fighting in Marawi City.
Farhana's husband Cayamora Maute, who was also arrested while trying to enter Davao City, died while in detention in Bicutan, Taguig City last August.
Farhana, through their family-owned businesses in Metro Manila, has been identified as one of the key financiers of the attack and occupation of Marawi City, spearheaded by her now dead sons, Abdullah and Omarkakhayam.
Following Farhana's arrest, Malawani reportedly took over management of the Maute family businesses, proceeds of which he allegedly transmitted to their contacts in Lanao del Sur to support the Islamic State-inspired terrorists fighting government forces in Marawi City.
One of his contacts in the Maute group has been identified as his sister-in-law Lily Zea Macabangki-Maute, wife of one of the slain Maute brothers.
"Disruption operations, either perceived or real terror threats, are continuing in line with our sustained security preparations for the ASEAN summit," the anti-terror official said.
He also bared that aside from the bazaar owned by the Maute family in Novaliches, they also own other businessess that include hardware stores in Metro Manila.
The anti-terror official assured legitimate Muslim traders in Metro Manila they need not worry as the ongoing security operations are all intelligence-driven, being a product of target hardening done by various law enforcement agencies.
Aside from suspected Maute supporters, the source said that parallel intelligence monitoring is also being done to determine plans and movements of the communst insurgents, in relation to the upcoming ASEAN summit.
The National Capital Region Police Office (NCRPO) yesterday assured the public that there is no immediate threat from terrorist groups in Metro Manila despite the recent arrest of a suspected financier of the Maute group.
"We have not received any information although we have been saying we always assume a high threat level in Metro Manila," NCRPO Director
Oscar Albayalde told radio station dzBB.
Chief Supt. Guillermo Lorenzo Eleazar, Quezon City Police District director, said charges of illegal possession of firearms and explosives were filed against Malawani before the Quezon City
prosecutor's office last Thursday.
Albayalde urged the public to report suspicious looking persons who might sow terror in the metropolis.
"We must remain alert and vigilant. Let's immediately report anything out of the ordinary," said Albayalde.
No fly zone
The Civil Aviation Authority of the Philippines (CAAP) will strictly implement a "no-fly zone" for drones in the areas where the events of the 31st ASEAN Summit will be held from Nov. 9 to 17 in Manila and Clark in Pampanga.
CAAP Director General Capt. Jim Sydiongco warned all drones or unmanned aircraft vehicles (UAV) owners, operators and hobbyists to refrain from using them in the said dates and areas or face stiff penalties and possible confiscation.
The agency issued notice to airmen (NOTAM B4588/17) of no drone operations from Nov. 9 to 17, 40 nautical miles radius centered on Luneta Park and NOTAM B4593/17, 40 nautical miles radius centered on Clark in Pampanga.
CAAP said that Memorandum Circular No. 21 series of 2014 and its amendments in Memorandum Circular No. 35 prohibit the flying of drones or UAVs over populated areas, restricted areas such as airports and no-fly zones such as military training camps and Malacañang.
The memorandum states that no person may operate a UAV for hire or reward unless in possession of a UAV Certificate of Authorization from CAAP that authorizes the person to operate the UAV.
Owners or operators are required to register their equipment with the CAAP and secure a certification to operate from the agency.
Under the provisions of the Philippine Civil Aviation Regulations (PCAR), any operator found violating rules of the memorandum will pay fines ranging from P300,000 to P500,000 depending on the gravity of the violation and confiscation of the UAV.
Meanwhile, a security guard who acted as a terrorist during a simulation exercise was injured after a member of the police Aviation Security Group (Avsegroup) accidentally shot him using a loaded firearm in Malay, Aklan on Friday.
Supt. Gilbert Gorero, spokesman of the Western Visayas police, said the incident happened at around 8 p.m. at the Caticlan Airport police station in Barangay Caticlan.
Members of the Avsegroup were conducting a drill where the scenario is a suspected terrorist having slipped into the airport.
The person who acted as the terrorist is Nhick Tanan, 29, a security guard at the airport.
Malay police commander Chief Insp. Mark Evan Salvo said one of the policemen, Police Officer 2 Benedicto Etrata, 27, shot Tanan, unaware
that his .9mm pistol was loaded with a live bullet.
"He told us he put back the firearm's magazine while inside the comfort room," Salvo said in a phone interview.
Tanan suffered a gunshot wound in the right chest. He is currently confined at a local hospital.
Etrata, who immediately surrendered after the incident, was placed on restrictive custody pending investigation.
With Rudy Santos, Emmanuel Tupas