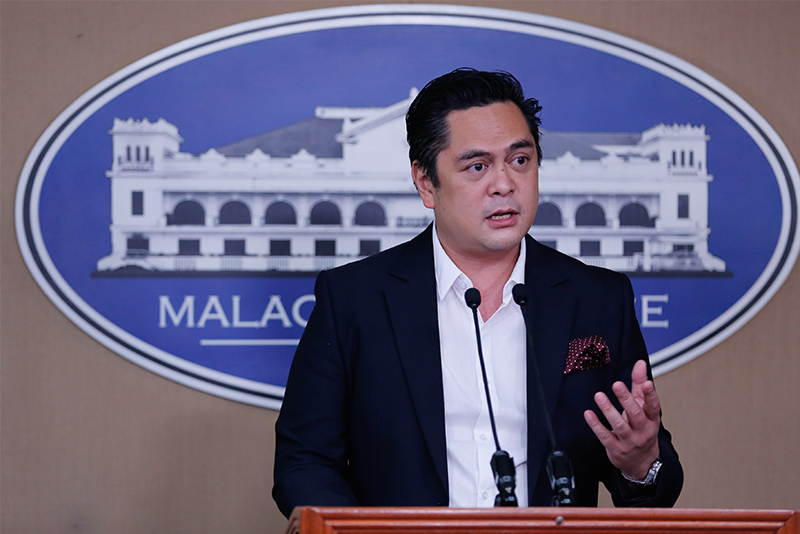 During a meeting in London with overseas Filipino workers, Andanar said officials of the European Union who criticize the chief executive for the spate of killings in the country just have too much sex. His remarks were caught on video by a member of the audience. PPD/File
Andanar's EU remark a 'distasteful, desperate' diversion
(Philstar.com) - October 25, 2017 - 11:29am
MANILA, Philippines — Lawmakers condemned the sexual remarks made by Communications Secretary Martin Andanar against members of the European Union, calling the Malacañang official "rude and unprofessional."
In a statement, the Gabriela Women's Party emphasized that excessive sex or lack thereof is irrelevant to the growing outrage over the spate of extrajudicial killings under the administration of President Rodrigo Duterte.
"Andanar's response is at the very least a distasteful and desperate attempt to divert the issue using vulgarity to avoid accountability over the killings and rights violations under Duterte," Gabriela said.
Akbayan party-list Rep. Tom Villarin said Andanar should apologize for his rude remarks and "clean up his mouth as well as his office which is in disarray."
"It's highly unbecoming of a Cabinet secretary in charge of official communications to degenerate into political debauchery. But again the standards under the Duterte administration leaves nothing to the imagination in its vulgarity and sense of proportion," Villarin said.
READ: Duterte decries EJK tag: 'I've been demonized'
He added that Filipinos do not deserve to be represented in such debauchery and perversity.
Diplomacy must always be practiced in dealing with other countries, Magdalo party-list Rep. Gary Alejano emphasized.
"Government officials are the face of the whole nation. Their actions reflect the Filipino culture. Filipinos are known to be respectful and hospitable. Unfortunately, our present government officials are the very first ones showing the opposite," he said.
Alejano noted that Andanar's unprofessional remarks show that the current Cabinet officials and allies are taking Duterte as a model.
"I condemn not only the recent remarks of PCOO Secretary Andanar but all such statement and actions coming from government officials. We must all demand dignity in the office.
READ: A year of consistent inconsistencies
During a meeting in London with overseas Filipino workers, Andanar said officials of the EU who criticize the chief executive for the spate of killings in the country just have too much sex.
"Yung maiingay na pala-iyot, ang problema sa kanila hanggang ingay lang. Wala naman silang napatunayan (Those who keep yapping are those who have a lot of sex, the problem with them is that they are all talk)," Andanar said.
"Yung prime ministers and presidents of other countries are all supportive of President Duterte. 'Yung mga nasa baba lang ang maiingay dahil nga kulang sila sa 'iyot' (The prime ministers and the presidents of other countries are all supportive of President Duterte. Those who rank below are all talk, maybe because they lack sex)," Andanar added, using the Visayan term for sex.
The presidential communications chief's remarks were caught on video by a member of the audience.
Duterte has repeatedly launched tirades against the EU, even making a wordplay "EU de puta" to pertain the group of world leaders, a play with a Spanish cuss word, "hijo de puta or son of a bitch."
He has also accused the European parliamentary of meddling with the country's politics, and even issuing an order against EU diplomats to leave the country in 24 hours.
READ: Duterte warns EU ambassadors: 'You leave my country in 24 hours'