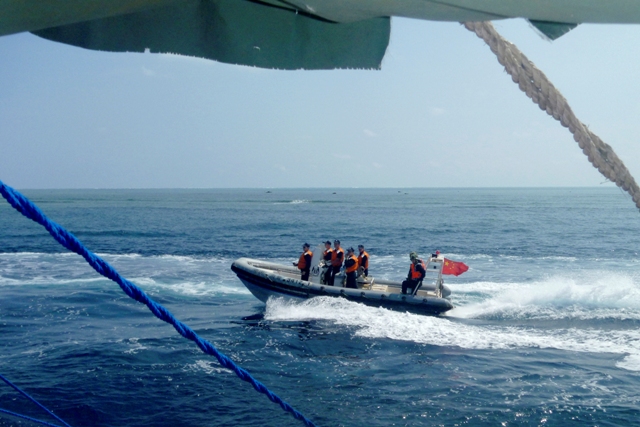 In this Oct. 27, 2015, file photo, provided by Filipino fisherman Renato Etac, a Chinese Coast Guard boat circles a Filipino fishing boat near Scarborough Shoal in the South China Sea. Renato Etac via AP, File
China to donate four brand new 'fast boats' to Philippines
MANILA, Philippines — Aside from military equipment that China had already donated to the country, the government is expecting high-speed boats from Beijing, Defense Secretary Delfin Lorenzana said Tuesday.
"They're also giving us fast boats to be used in the Sulu Seas. Four fast boats but they are still manufacturing them," Lorenzana said in a televised press conference.
Lorenzana is set to meet with his Chinese counterpart on the sidelines of the ASEAN Defense Ministers Meeting in Clark, Pampanga.
The high-speed boats are expected to be delivered to the country before the end of the year, according to Chinese Ambassador Zhao Jianhua.
The Defense chief noted that China had donated 3,000 M-16, about 90 sniper rifles and millions worth of ammunition to the country, which were used by government troops in Marawi City.
On Tuesday, Beijing officially turned over $3 million worth of construction equipment to the Department of Public Works and Highways for the rehabilitation of war-torn Marawi.
This includes dump trucks, cement and mixers, excavators and bulldozers, which were delivered to the Port of Iligan on October 9.