IPU to send observer to De Lima trial
October 20, 2017 | 4:00pm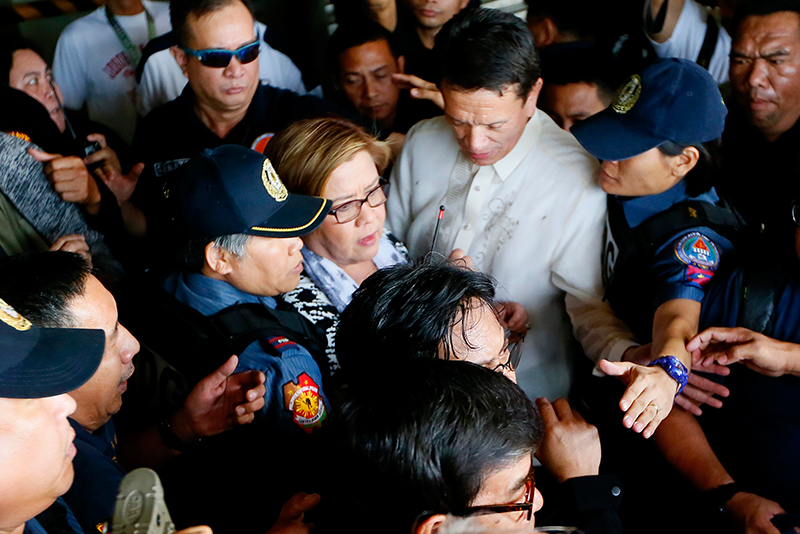 MANILA, Philippines — The Inter-Parliamentary Union (IPU) is sending an observer to monitor the trial of detained Sen. Leila de Lima as soon as it commences.
This was part of the recommendations made by a delegation of the IPU's human rights committee, which visited the country recently to check on the status of De Lima and the extrajudicial killings (EJK) under the Duterte administration.
In its report, the IPU delegation raised its doubts about the evidence or lack thereof against De Lima to support the filing of the cases against her.
"The delegation points out that in each of the three cases, there are serious questions and doubts about the evidence," the report stated.
"The delegation also fails to understand how the accusations against Senator De Lima make sense, given that it was she who took action against the alleged drug trafficking in the NBP (New Bilibid Prison)," it added.
The IPU aired its concern over the statements of President Duterte, Justice Secretary Vitaliano Aguirre II and other officials against De Lima that it claimed were meant to portray her as guilty even before the trial started.
"The delegation considers that their statements, first and foremost, those of the Head of State, forcibly carried great weight and may put undue pressure on the course of the criminal cases," the report stated.
Because it believes there is no evidence to justify the criminal cases against De Lima, the delegation called for her immediate release from detention and for the authorities to consider dropping the charges against her.
If the trial would proceed, then the delegation urged due process should be accorded to De Lima.
"The delegation considers it of utmost importance that an IPU trial observer then monitor and report on respect for due process in the legal proceedings," the report stated.
According to the delegation, the Senate, through Senate President Aquilino Pimentel III, should "do everything possible in this regard and thus help ensure that Senator De Lima can participate again in its work as soon as possible."
In a statement, De Lima expressed her elation to IPU's resolve to get a clearer and unbiased view of the trumped-up cases of illegal drug trade filed against her.
"Despite the Duterte administration's obvious effort to intimidate and silence me through my continued unjust detention, I am grateful that the Inter-Parliamentary Union vows to fight for my right to fair trial," De Lima said.
She thanked the IPU for its support for her as she vowed to continue appealing her case to the Supreme Court.
The high court last week dismissed her petition seeking release from detention.
"I thank the IPU for defending my causes and vouching for my integrity. I know that my fight is not my fight alone as this is the fight for human rights, democracy and rule of law. I will never be cowed until this government decides to value democratic principles and respect for human rights," De Lima said.
"As I've mentioned before, the support I'm getting from international groups and local supporters who refuse to turn a blind eye on the injustices happening in the country gives me more courage and strength to keep fighting the good fight."