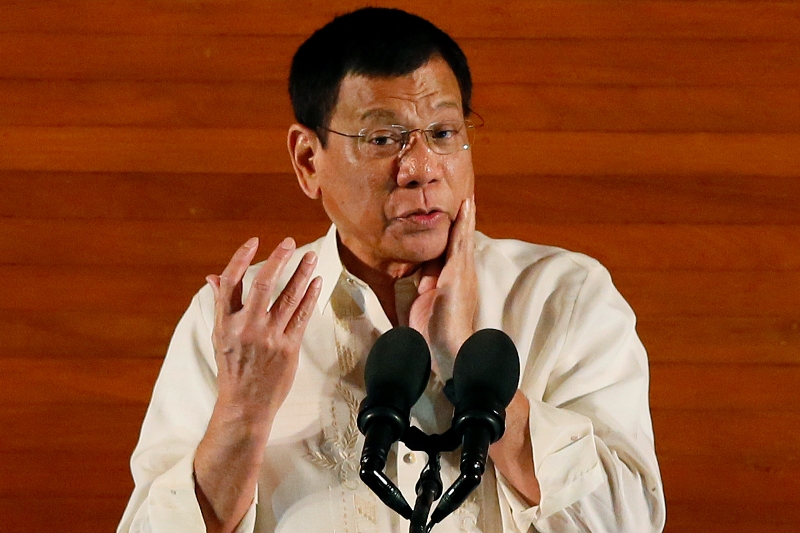 President Rodrigo Duterte, on Thursday night, claimed that minors are arrested for being drug couriers. He also launched a new tirade against Sen. Kiko Pangilinan for supposedly creating a "vacuum" for minors convicted of crimes, despite the amendment made to the senator's law five years ago. AP/Bullit Marquez
Duterte claims minors nabbed in drug ops are couriers, runners
(Philstar.com) - October 20, 2017 - 8:28am
MANILA, Philippines — President Rodrigo Duterte on Thursday night claimed that minors arrested by the police in anti-drug operations are drug couriers, citing Kian Delos Santos's case.
In a speech during the 43rd Philippine Business Conference and Expo concluding ceremony, Duterte lamented: "Why is it that in every arrest, during the night, there is always a minor and a person of age? Why?"
"Because this is the courier, this is the runner," Duterte said.
There is no data to support that there is always a minor arrested in drug operations. News reports on buy-bust operations and raids tend to disprove the president's claim.
Among the latest killed under the government's drug war is 17-year-old Kian Delos Santos, who was killed by Caloocan police on the night of August 16 during a "One Time, Big Time" operation.
Duterte, in the same speech, cited Delos Santos' case, adding that he is "not attributing it to anybody," but challenged the audiences to explain why are there minors arrested in anti-drug operations.
Human rights groups have estimated that as many as 13,000 have been killed in the government's bloody war but government data releases say around 3,900 drug "personalities" have been killed in police operations.
Other deaths have been classified as homicides and murders.
Kian Delos Santos, a drug runner?
In the defenses filed at the Department of Justice by relieved Caloocan cops implicated in Delos Santos' case, they blamed the Grade 11 student for his own death.
Chief Inspector Amor Cerillo, sacked Caloocan Police Community Precinct 7 head, stated in his counter-affidavit: "If only Kian Delos Santos did not engage our police officers in a shootout, that tragic incident would not have happened."
READ: Sacked Caloocan cop blames Kian for own death
He reiterated that during the August 16 operations, three other minors were rounded up by the police but "it is only Kian Delos Santos who ran away and worse engaged our police officers in the shootout."
Cerillo said: "The fact that one minor was turned over to the Caloocan City Social Welfare Department and the other two minors were turned over the barangay, it shows and proves that respondent has educated and supervised his personnel in the proper conduct of Oplan Galugad."
During the Senate investigation on the rise of teenage killings in the anti-drug war, Senior Superintendent Chito Bersaluna , sacked Caloocan police chief, said they "validated" the teen's alleged drug involvement through some social media posts after he was killed.
READ: Kian's alleged drug activities 'validated' through social media
Cerillo, in his counter-affidavit, stressed: "This is no longer surprising because it is a public knowledge that minors are being used by criminal syndicates in perpetrating crimes, particularly illegal drug trade."
No case or complaint was filed against Delos Santos before he was killed on August 16. Neither did he have a derogatory record in school or with the barangay government.
READ: Expert: Kian killed kneeling when shot by cops
Juvenile Justice law?
Duterte also blamed Sen. Francis "Kiko" Pangilinan for letting minors impleaded in serious crime to go free, an inaccurate statement.
This is essentially a repeat of his tirade against the senator in April.
Pangilinan authored Republic Act 9344, or the Juvenile Justice and Welfare Act of 2006, which held that a child under 15 years old who commits an offense shall remain exempted from criminal liability.
Children in Conflict with the Law are, however, "subjected to an intervention program, unless [ they have] acted with discernment, in which case, such child shall be subjected to the appropriate proceedings in accordance with this Act." Minors are also not exempt from civil liability.
But Republic Act No. 10630, signed by former President Benigno Aquino III on July 23, 2012, effectively amended the Juvenile Justice law.
Under the amended law, those between the ages of 12-15 who commit parricide, murder, infanticide, kidnapping and serious illegal detention, rape, robbery, destructive arson, carnapping, or violate the Comprehensive Dangerous Drugs Act "shall be deemed a neglected child" and be "mandatorily placed in special facility with youth care faculty or 'Bahay Pag-asa' called the Intensive Juvenile Intervention and Support Center."
Duterte said that Pangilinan "created a vacuum" for the minors.
He added: " The right thing — Pangilinan, siguro should have done was, if there was this radical change in law at least he could have a colatilla or a condition provided that in cities and provinces there ought to be correctional facilities or halfway houses where the children are brought there and lectured upon of his role in the society, the sense of accountability in his character and the duty of being responsible for the community."
Laws are written and passed collectively, with both Houses of Congresses working on and passing their versions of a piece of legislature. Bills need approval from a committee before being deliberated on, amended and voted on in plenary. A bill also needs a president's signature to be enacted.
Bills can also lapse into law if a president fails to sign it within 30 days of being transmitted by Congress.