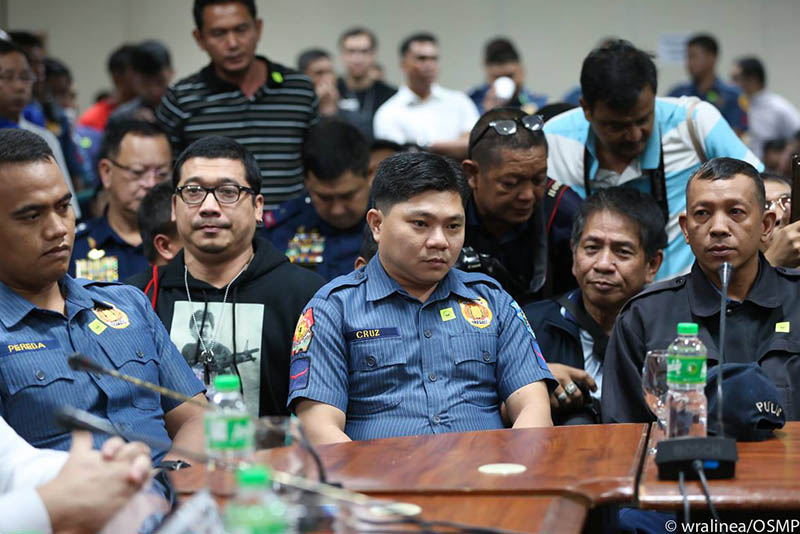 Police officers Jeremias Pereda, Jerwin Cruz and Arnel Oares—suspects in the killing of 17-year-old Kian delos Santos—attend the Senate dangerous drugs panel hearing on Thursday, Aug. 24, 2017. OSMP/Wendell Alinea
Sacked Caloocan cop blames Kian for own death
(Philstar.com) - September 25, 2017 - 12:46pm
MANILA, Philippines — The relieved Caloocan precinct commander blamed Kian delos Santos for his own death, adding that the media and politicians only did "grandstanding" to blow up the case.
"If only Kian Delos Santos did not engage our police officers in a shootout, that tragic incident would not have happened," read the counter-affidavit filed by relieved Caloocan Police Community Precinct 7 head Chief Inspector Amor Cerillo before the Department of Justice.
Cerillo is facing murder and torture complaints filed by the National Bureau of Investigation and Delos Santos' parents, Saldy and Lorenza.
Delos Santos was slain on the night of August 16 during a "One Time, Big Time" operation of the Caloocan City police.
READ: Callamard: Kian slay a turning point in Duterte's drug war
In answering the slay and torture accusations against him, Cerillo said Delos Santos brought his death upon himself.
He reiterated that during the August 16 operations of the police, there were other three minors rounded up by the police but "it is only Kian Delos Santos who ran away and worse engaged our police officers in the shootout."
"The fact that one minor was turned over to the Caloocan City Social Welfare Department and the other two minors were turned over the barangay, it shows and proves that respondent [Cerillo] has educated and supervised his personnel in the proper conduct of Oplan Galugad," the counter-affidavit further reads.
READ: Albayalde: Interpreting Duterte 'kill' remarks up to cops' judgment
Cerillo's men, PO3 Arnel Oares, PO1 Jeremias Tolete Pereda and PO1 Jerwin Roque Cruz, are also facing murder and torture raps.
The three filed a separate joint counter-affidavit, echoing Cerillo's defense that the August 16 operation was a legitimate police operation.
Media, politicians 'grandstanding'
Cerillo also hit the media and politicians for blowing up the case.
Delos Santos' killing, apparently done execution style, sparked public outrage, prompting even vocal supporters of the government's bloody war against drugs to voice their criticism.
READ: Enormous crowd attends funeral of Kian
But Cerillo said: "The media and the grandstanding politicians only twisted the incident involving Kian delos Santos by making it appear that there is policy killing in the PNP, but the truth is, there is none."
"The problem is that the media and grandstanding politicians pictured Kian Delos Santos before the public as an innocent minor but the truth of the matter is that Kian Loyd Delos Santos is indeed a drug courier," Cerillo added.
During the Senate probe on Delos Santos' killing, sacked Caloocan police chief Senior Superintendent Chito Bersaluna said they "validated" the teen's alleged drug involvement through some social media posts after he was killed.
"Moreover, if Kian Delos Santos did not involve himself in the illegal drug activities, then he would not be involved in any 'Oplan Galugad' and he does not need to open fire at our patrolling drug officers," the counter-affidavit further reads.
"This is no longer surprising because it is a public knowledge that minors are being used by criminal syndicates in perpetrating crimes, particularly illegal drug trade," Cerillo added.
READ: Expert: Kian kneeling when shot by cops
No case or complaint was filed against Delos Santos before he was killed on August 16. He was a grade eleven student, who was said to be closing his father's sari-sari store when police found him. He was heard pleading the police to stop since he still had an exam the next day.
A social media user claiming to be Delos Santos' neighbor said the teen was a "known" drug courier or runner. No validation was made on the post.
Opposition Sen. Francis Pangilinan, however, posted on Facebook a screenshot of the said neighbor being told by another user to stop using her photo.
"Niloloko ang taumbayan ng mga bayaran na trolls na sinisiraan pa ang walang-awang pinatay na si Kian," Pangilinan said.
The four cops sought the dismissal of the complaints against them due to lack of merit and lack of probable cause.
The DOJ is set to resume the probe into Delos Santos' case on October 2 and 10.