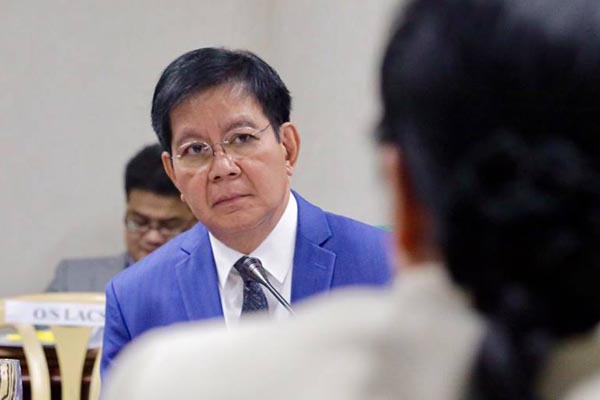 Sen. Panfilo Lacson, chair of Senate committee on public order and dangerous drugs, called the latest Pulse Asia results "disturbing to some and dangerous to many." The Ulat ng Bayan suggested that an overwhelming majority of Filipinos support the government's campaign against illegal drugs despite their belief that extrajudicial killings happen. Photo from Sen. Panfilo Lacson's Facebook page
Lacson: Filipinos might be resigned to EJKs as part of drug war
(Philstar.com) - October 17, 2017 - 2:54am
MANILA, Philippines — The latest Pulse Asia survey may mean Filipinos are resigned that extrajudicial killings are part of the government's campaign against illegal drugs, Sen. Panfilo Lacson said Tuesday.
Lacson, chair of the Senate Committee on Public Order and Dangerous Drugs and a former national police chief, called the poll results "disturbing to some and dangerous to many."
He said the findings suggest that people have accepted that summary killings are acceptable.
"Not necessarily they support the methods, they support the fight against drugs. But it cannot be denied that somehow, subliminally they're thinking that any method is needed," Lacson said on ANC's Headstart.
Pulse Asia's Ulat ng Bayan survey suggest that 88 percent of the 1,200 respondents expressed their support for the administration's war on drugs. Only two percent are not supportive of the campaign.
The same survey revealed that 73 percent of Filipinos believe that extrajudicial killings are taking place in the course of the war on drugs.
READ: Majority of Filipinos support drug war, believe EJKs occur — Pulse Asia
"If Filipinos feel resigned that EJKs can solve the drug problem, then we must rethink our position," Lacson said.
On Monday, Presidential Spokesperson Ernesto Abella said the Pulse Asia results show that Filipinos appreciate the current administration's efforts to reduce the incidence of crime and make communities safer and more peaceful.
READ: Palace: Pulse Asia poll shows people's appreciation of drug crackdown
According to the Philippine National Police, there have been 6,225 drug-related deaths between July 2016 and September 2017.
The police said 3,850 have "died in police operations," suggesting these are drug suspects who engaged arresting officers in shootouts; while the another 2,290 "deaths under investigation," have already been determined to be "drug-related."
The latest #RealNumbersPH government data release has raised the number of people killed in drug operations to 3,906.
But the Palace and the PNP have maintained the position that there has been no extrajudicial killing in the country based on criteria established by Administrative Order 35. The order created an inter-agency council to investigate extrajudicial killings and lists the criteria for cases that the new body was supposed to focus on.