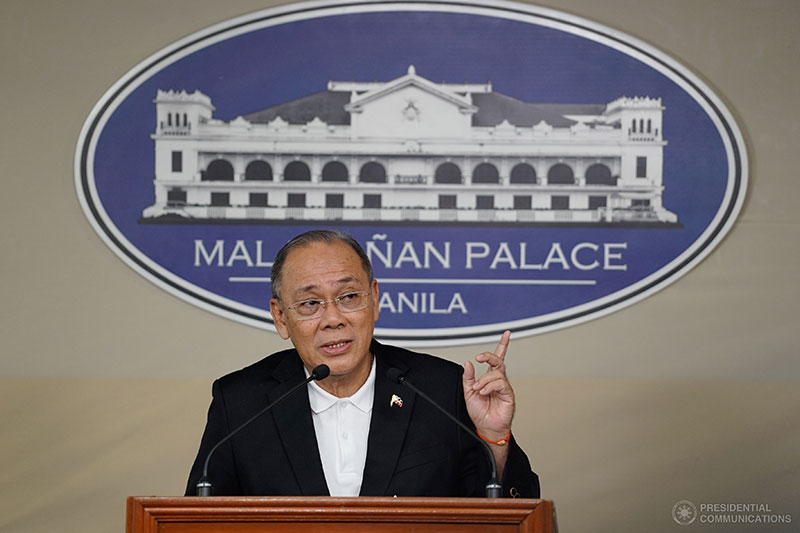 "Despite the multi-faceted political noise, President Duterte is still the most approved and the most trusted government official in the Philippines today," Presidential spokesperson Ernesto Abella said in a statement. Presidential Photo/King Rodriguez
Palace welcomes Duterte's steady trust, approval ratings in Pulse Asia poll
(philstar.com) - October 13, 2017 - 5:50am
MANILA, Philippines — Malacañang on Friday welcomed President Rodrigo Duterte's steady trust and approval ratings based on a new Pulse Asia survey, noting that the leader's scores came "at the height of the demolition job" against the first family.
"Despite the multi-faceted political noise, President Duterte is still the most approved and the most trusted government official in the Philippines today," Presidential spokesperson Ernesto Abella said in a statement.
"We hope these survey results inspire us in the government that despite odds and challenges we continue to provide a comfortable life for all Filipinos in an environment free from illegal drugs and criminality," Abella added.
"This is the way we return the overwhelming confidence and trust bestowed by our people in the President."
In its Ulat ng Bayan national survey conducted from September 24 to 30 via face-to-face interviews with 1,200 adults, Pulse Asia found 80 percent of respondents having big trust and 6 percent having small trust in Duterte while 14 percent were undecided.
READ: Pulse Asia: Duterte retains 'big majority' approval, trust ratings
The biggest trust scores for Duterte came from his home region of Mindanao at 93 percent and from respondents who belong to class E at 85 percent.
Meanwhile, another 80 percent of those surveyed said they approve of Duterte while 7 percent expressed their disapproval. Respondents from Mindanao and class E gave Duterte his hightest approval ratings at 92 percent and 86 percent, respectively.
Pulse Asia's poll came after Duterte suffered an 18-point plunge in his net satisfaction rating for the third quarter of this year, based on the September 23 to 27 survey conducted by polling firm Social Weather Stations. According to SWS president Mahar Mangahas, the drop in Duterte's ratings is faster than average against his predecessors.
Among the news items when both Pulse Asia and SWS conducted their surveys were the death of minors in the hands of Caloocan City cops that triggered public anger, as well as the latest claims of Sen. Antonio Trillanes IV regarding Duterte's alleged questionable wealth.
READ: Duterte sees 18-point drop in satisfaction rating | SWS president: Duterte ratings dip normal but faster than average