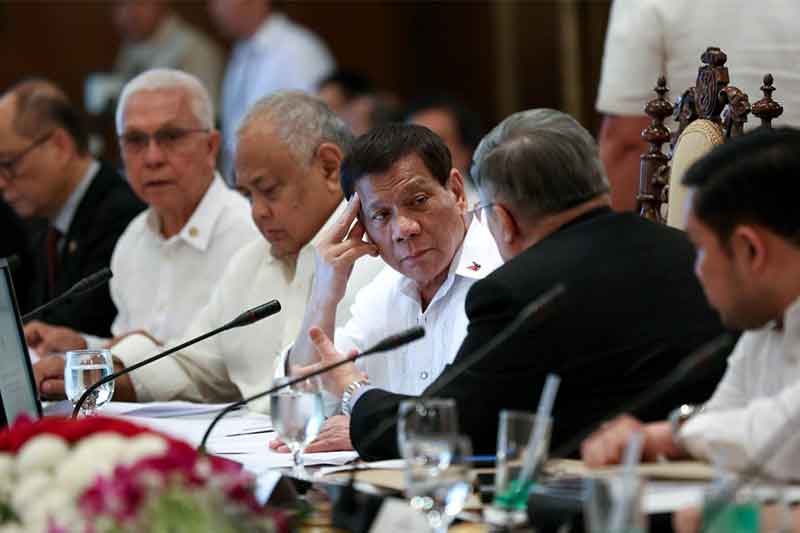 President Rodrigo Roa Duterte greets Trade and Industry Secretary Ramon Lopez prior to the start of the 19th Cabinet Meeting in Malacañan Palace on October 4. Presidential Photo/Karl Norman Alonzo
SWS president: Duterte ratings dip normal but faster than average
MANILA, Philippines — President Rodrigo Duterte would have to maintain "good" net satisfaction ratings for a majority of his term to exceed the ratings of his predecessors, SWS president Mahar Mangahas said Tuesday.
Duterte suffered an 18-point plunge in his net satisfaction rating for the third quarter of this year, based on the survey conducted by polling firm Social Weather Stations.
The president's "very good" rating of +66 in June declined to a "good" +48 in September.
Mangahas noted that the drop in Duterte's ratings is faster than average against his predecessors.
"I would say that the fall is a little bit faster than average, compared to past presidents…They all fall... It's not something to be proud about yet. If he can continue and match the records of Cory (Aquino), (Fidel) Ramos, and Noynoy (Aquino), then it's something to talk about, but it's still only his second year," Mangahas said on ANC's Headstart.
READ: Duterte sees 18-point drop in satisfaction rating
Duterte, Mangahas said, has already exceeded the so-called honeymoon stage of ousted President Joseph Estrada, who only had one year of "good" ratings.
Former President Gloria Macapagal-Arroyo, on the other hand, never had a honeymoon period as she never had a rating higher than +30.
"There's a long way to go for President Duterte to even match his predecessors. All the presidents, their ratings go down," Mangahas said.
Corazon Aquino, Ramos and Benigno Aquino III all had "very good" net satisfaction ratings during their fifth quarter in office with +64, +62 and +56, respectively.
According to Mangahas, Noynoy Aquino had the longest honeymoon period, which was three years.
"Duterte has already exceeded Erap, he has not exceeded Ramos, he has not exceeded Cory and definitely he has not exceeded PNoy (another nickname for Benigno Aquino III) because PNoy had the best of them all," Mangahas said. He said Duterte needs to maintain his "good" ratings "for two more years before you can say he is as popular as those others before him."
For Duterte to match Aquino's ratings, he would have to maintain his "good" ratings until the first quarter of 2018.
Mangahas added that the recent drop in Duterte's ratings would have been due to the rising number of extrajudicial killings in the country.
"I wouldn't say that there has to be something violent that happens but, of course, if there's something violent then that's worse like these extrajudicial killings... It probably would have not been that low if not for these things," Mangahas said.
The SWS chief, however, clarified that the killings brought about by Duterte's campaign against illegal drugs are not the sole factor of the dip in his ratings.
"It could be, but we'll try to look into that, because we know about the people's fears about being victimized so we'll see if there's a connection to people's fears about being victimized... This is not one thing, this is not necessarily just about EJKs, but, of course, that's very important," he said.
RELATED: Panelo on ratings drop: Duterte unperturbed by surveys