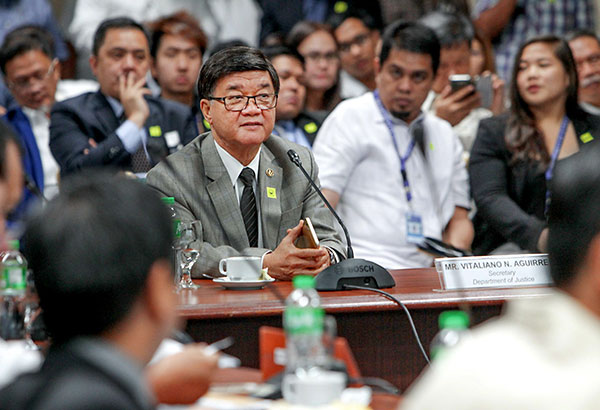 Justice Secretary Vitaliano Aguirre said US Homeland Security offered to help find and bring back Trangia who, along with his mother Rosemarie, was reported to have fled to Chicago.Geremy Pintolo, File
US Homeland Security offers to track down UST fratman
MANILA, Philippines — The US government has offered to help return Aegis Juris fratman Ralph Trangia, among the persons of interest in the fatal hazing of law freshman Horacio "Atio" Castillo III, Justice Secretary Vitaliano Aguirre II said yesterday.
Aguirre said US Homeland Security offered to help find and bring back Trangia who, along with his mother Rosemarie, was reported to have fled to Chicago.
The Department of Justice (DOJ) earlier requested the Department of Foreign Affairs (DFA) to cancel Trangia's passport so he could be deported back to the Philippines.
During the meeting with President Duterte last Thursday, relatives of Castillo urged the cancelation of Trangia's passport.
Trangia and his mother left last Sept. 19 for Taiwan and then took a connecting flight to the US. He fled before his name was included in the Bureau of Immigration's lookout order.
During their recent Cabinet meeting, Duterte called on the DFA to make representations with the US State Department on how to bring Trangia back to the country.
Trangia reportedly drove the red pickup truck that brought the already unconscious Atio to the hospital.
The vehicle is registered in the name of his father, Antonio Trangia.