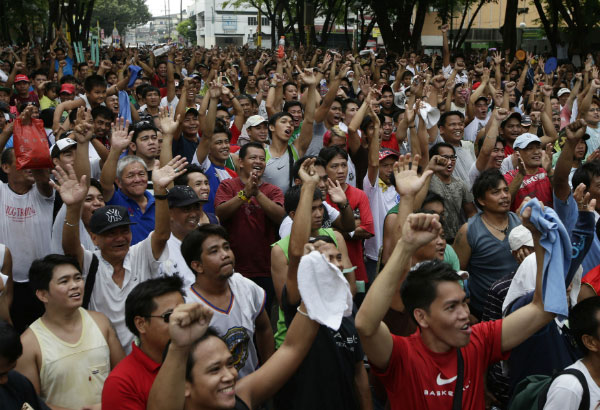 Seven in 10 Filipinos fear that they, or someone they know, will be a victim of extrajudicial killing or EJK, the latest Social Weather Stations (SWS) survey shows. AP/Bullit Marquez, File
SWS: 7 out of 10 fear being EJK victim
Helen Flores
(The Philippine Star) - October 6, 2017 - 4:00pm
MANILA, Philippines — Seven in 10 Filipinos fear that they, or someone they know, will be a victim of extrajudicial killing or EJK, the latest Social Weather Stations (SWS) survey shows.
The SWS poll, fielded from June 23 to 26, found 73 percent of adult Filipinos saying they were worried about getting victimized by EJK.
The rest of the respondents or 27 percent said they were not worried.
In all areas, those who were worried about getting victimized by EJK were in the majority, with the highest proportion coming from the Visayas at 77 percent. Mindanao followed with 75 percent, Metro Manila with 73 percent and balance Luzon, 70 percent.
Meanwhile, 90 percent of Filipinos in all areas believe it is important to capture drug suspects alive, the SWS said.
This belief was highest in Metro Manila at 95 percent, followed by the Visayas at 90 percent, balance Luzon at 90 percent and Mindanao at 86 percent.
The survey also found fewer Filipinos (63 percent) who believe the Duterte administration is serious about solving the EJK problem.
Those in the Visayas (68 percent) think the government is serious in ending EJK, followed by balance Luzon at 64 percent; Metro Manila at 62 percent and Mindanao at 59 percent.
Belief in the Duterte administration's seriousness to solve the EJK problem was at 70 percent in the SWS March 2017 survey.
The SWS June survey used face-to-face interviews of 1,200 adults 18 years old and above nationwide.
PNP wants suspects captured alive
Reacting to the SWS survey, the Philippine National Police (PNP) said it also wants drug suspects captured alive in anti-drug operations like a majority of Filipinos.
"We are in favor 100 percent. We prefer they are captured alive," PNP chief Director General Ronald dela Rosa said in a television interview.
"What's the use of waging this war on drugs if you don't value life," he aded.
PNP spokesman Chief Supt. Dionardo Carlos also released figures showing that a majority of suspected drug users and pushers are captured alive in anti-drug operations.
Carlos said a total of 109,090 drug offenders were arrested in 71,393 police operations, while 1,260,196 surrendered as of Sept. 30.
"These actions prove the PNP values the right to life of these unfortunate victims of illegal drugs," he added.
But PNP data showed at least 3,850 drug suspects were killed in the government's anti-illegal drug operations, of which 2,290 were killed by unidentified assailants. – With Emmanuel Tupas