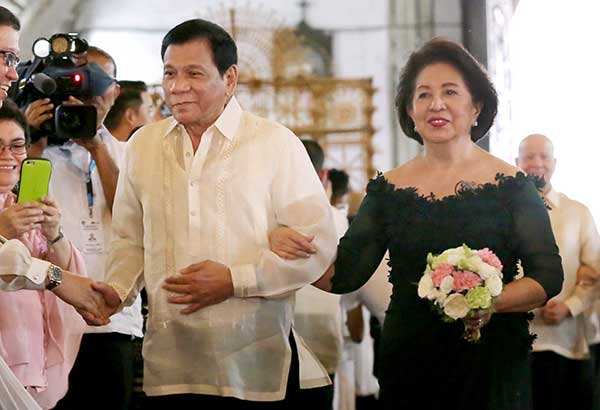 FAMILY TIES: Photo taken on Sept. 17, 2016 shows President Duterte and Ombudsman Conchita Carpio-Morales walking down the aisle as principal sponsors during the wedding of Waldo and Regine Carpio in Intramuros, Manila. Waldo Carpio is a brother of Manases Carpio, husband of Duterte's daughter Sara. Morales is the sister of Waldo and Manases Carpio's father.
Duterte to file impeach rap against ombudsman
(Philstar.com) - October 4, 2017 - 10:51am
MANILA, Philippines — President Rodrigo Duterte on Wednesday said he would file an impeachment case against Ombudsman Conchita Carpio-Morales for "selective justice" and for "illegally" obtaining his bank records.
"We will file an impeachment case against her and I would tend to believe she was part of the conspiracy 'yung fabricated papers," Duterte said in a press conference in Malacañang.
"In the end, they will discover to their sorrow there is no such amount," he added.
Duterte's tirades against the anti-graft agency came after the ombudsman, acting on a case filed by Sen. Antonio Trillanes IV, recently announced that it was launching a fact-finding probe into the alleged billions that Duterte's family supposedly owned.
But Duterte has described the accusation as "garbage" and has vowed to step down if proven that he or any member of his family is involved in corruption.
Shortly after the ombudsman bared its plan to probe the president's wealth, Duterte said he would form a commission that would look into allegations of anomalies and "partiality" in the anti-graft agency.
He also threatened the officials at the ombudsman with arrest if they do not comply with court summons and vowed not to recognize the investigation to be conducted by the constitutional body.
READ: Palace: Ombudsman 'showing its true political color'
Carpio-Morales has inhibited herself from acting on any case filed against the first family. Duterte's daughter, Davao City Mayor Sara Duterte, is married to Morales' nephew, lawyer Manases Carpio.
The Office of the Ombudsman earlier said it would not yield to intimidation as it vowed to continue its probe into the chief executive's alleged clandestine wealth.
"If the president has nothing to hide, he has nothing to fear," it said.
Illegally obtained?
In the same press conference on Wednesday, Duterte qualified that the bank documents gathered by the ombudsman, even if they were authentic, would be useless in court proceedings because they were illegally obtained.
"You cannot use it as evidence in court because ninakaw ninyo yan eh," the firebrand leader said.
"AMLC says wala sila. Naghugas ng kamay. So saan mo kinuha because the only source is AMLC," he also said, adding that former Anti-Money Laundering Council executive director Julia Baccay-Abad gave the documents to Trllanes and the ombudsman.
To recall, Abad resigned from her post last February. She said the president's criticism of the AMLC demoralized its 96-member secretariat.
"Ang lumabas doon... nagbukas ng account ko binigay kay Trillanes si Abad who is the mistress of Trillanes, yang Abad na yan," Duterte said.
Last week, Overall Deputy Ombudsman Melchor Arthur Carandang was quoted as saying that his office had already received the bank transaction record of the president's family from 2006 to 2016 from the AMLC.
But AMLC later denied that it had provided the ombudsman with a report detailing the transaction history of the first family's bank accounts.
Carandang, in turn, insisted that he observed confidentiality on the probe and claimed that he was just reading through the documents shown to him by the media.
Duterte wants Sereno impeached, too
In the course of his diatribes against Carpio-Morales, Duterte also said he would file an impeachment complaint against Supreme Court Chief Justice Maria Lourdes Sereno on top of other raps lodged by his allies against the magistrate.
This was after Duterte dared Sereno and Morales to resign with him and accused the two officials of corruption.
READ: Rody dares Sereno, Morales: Let's resign
"Kay Sereno wala kaming dynamics, wala nga akong galit. Di naman nag-atake but the problem is the law should apply to all," Duterte said.
The complaint against Sereno that was filed by lawyer and defeated senatorial candidate Larry Gadon has hurdled the House of Representatives' Committee on Justice, which found the complaint sufficient in form and substance.
Gadon has accused Sereno of committing culpable violation of the Constitution, corruption, high crimes and betrayal of public trust. Attached to Gadon's complaint are SC resolutions and temporary restraining orders that he claims Sereno "falsified."
In several interviews, Gadon said that there are at least three justices who will be willing to testify against Sereno, but he has yet to divulge the names of the said magistrates.
Sereno's camp has earlier asked the Committee to dismiss Gadon's complaint, in an 85-page verified answer filed on September 24, for "lack of sufficient grounds and for lack of probable cause."
READ: Sereno lawyers ask to cross-examine 'resource persons' in impeachment rap
Meanwhile, Duterte's threats against the two officials, who were appointed by his predecessor, have been called by critics as an "attack" against democratic institutions in a veiled attempt by the administration to consolidate power.
"I did not start this ruckus, tahimik naman ako. Ang problema nagpadamay sila kay Trillanes," Duterte said of Sereno and Carpio-Morales.