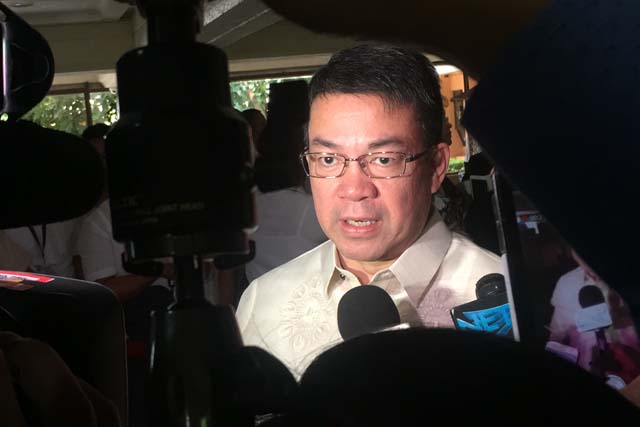 Senate President Aquilino "Koko" Pimentel III will remain at the helm of the chamber despite attempts of Sen. Antonio Trillanes IV to oust him, allies said yesterday. Philstar.com/Rosette Adel, File
16 senators support Pimentel's leadership — Lacson
Paolo Romero
(The Philippine Star) - September 29, 2017 - 4:00pm
MANILA, Philippines — Senate President Aquilino "Koko" Pimentel III will remain at the helm of the chamber despite attempts of Sen. Antonio Trillanes IV to oust him, allies said yesterday.
Sen. Panfilo Lacson said at least 16 senators are supporting Pimentel.
Trillanes earlier attacked Pimentel for his "passive" leadership in the Senate and efforts to cover up President Duterte's alleged wrongdoings.
He threatened to campaign for the ouster of Pimentel if he does not do anything to replace Sen. Richard Gordon as chairman of the Blue Ribbon committee.
"Koko (Pimentel) will stay as SP (Senate President). The majority bloc, all 16 of us, are solidly supporting his Senate leadership," Lacson said in his official Twitter account.
He said the 13 votes needed to oust Pimentel and elect a new one is "extremely improbable."
Sen. Joseph Victor Ejercito added Pimentel has the support of the majority of the senators.
"No reason for a change in leadership at this time," Ejercito said in his Twitter account.
Sen. Juan Miguel Zubiri also defended Pimentel and Gordon, whom Trilllanes also wants ousted for allegedly weakening the independence of the Senate by protecting those in power.
He expressed confidence that Pimentel and Gordon "will survive this attack on their integrity and capability to carry out the mandates of their offices."
"Their mettle as lawmakers have been tested and as mature politicians, they both display what it takes to face the challenges head on. I have full trust and confidence in them to continue on in their current positions," Zubiri said.
He said the two senators' performance withstood "the glare of public scrutiny."
"They are doing their jobs well and I see no need to replace them," Zubiri said.
Pimentel said he was "very thankful" for the support of his colleagues.
He was unfazed by Trillanes' threat, saying "he can go ahead with his plans."
"This is a free country," the Senate president said.
Trillanes earlier said Gordon was using the committee "to get leverage from people in power."
"To me, for as long as Sen. Gordon is there, you will see that the independence of the Senate will be affected. For as long as Sen. Gordon is there at the Blue Ribbon committee, I will put the blame and responsibility on Sen. Koko Pimentel," Trillanes told reporters on Thursday.
"So if he is not removed, I will really work hard to remove Sen. Koko Pimentel in order to remove Sen. Gordon, Blue Ribbon committee chairman," he added.
Trillanes said he raised the issue a number of times with Pimentel but nothing came out of them. – With Marvin Sy