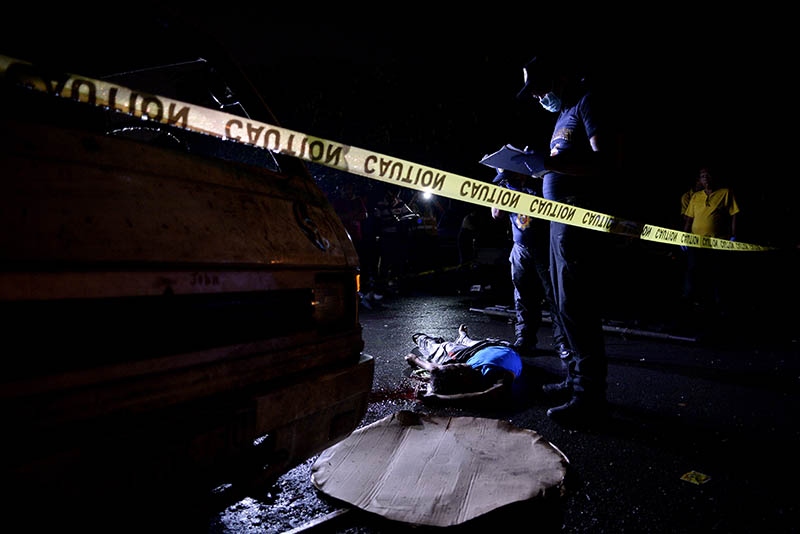 This file photo taken on May 18, 2017, shows police officers investigating an alleged drug dealer killed by unidentified gunman in Manila. The PNP said 3,850 have "died in police operations", suggesting these are drug suspects who engaged arresting officers in shootouts. AFP/Noel Celis
PNP: 6,225 drug-related deaths since July 2016
(philstar.com) - September 29, 2017 - 5:42am
MANILA, Philippines — There have been 6,225 drug-related deaths between July 2016 and September 2017, the Philippine National Police said.
The data release, posted on the PNP's Facebook page, contrasts with estimates by administration critics and human rights organizations that reach as high as 13,000.
The PNP said 3,850 have "died in police operations," suggesting these are drug suspects who engaged arresting officers in shootouts.
READ: SWS: Majority of Filipinos think 'nanlaban' victims didn't really fight back
Police said another 2,290 "deaths under investigation", have already been determined to be "drug-related."
According to government's #RealNumbersPH release on June 30, with data updated until June 19, there were 8,200 deaths under investigation out of 12,833 homicides recorded since July 1, 2016.
The Presidential Communications Operations Office said then that 2,098 were drug-related.
The police said 85 security personnel have been killed in anti-drug operations since July 2016, with the majority — 82 — coming from the PNP.
The PNP data release came after 39 UN member-states expressed concern over the killings and urged the Philippines "to take all necessary measures to bring these killings to an end and cooperate with the international community to pursue appropriate investigations into these incidents, in keeping with universal principles of democratic accountability and the rule of law."
READ: Palace on international call for end to killings: We will never accept dictation
Iceland read the statement on behalf of the 38 other signatories in the 36th session of the UN's Human Rights Council. — Jonathan de Santos