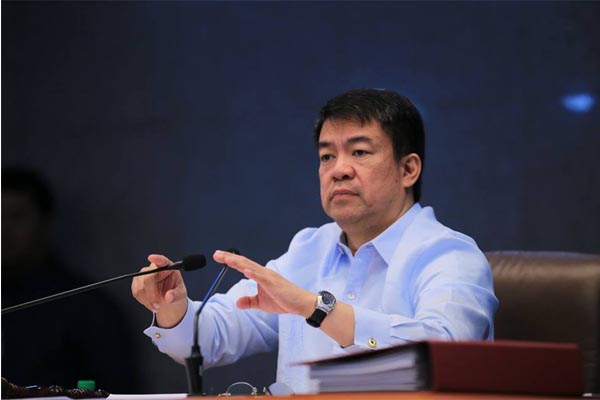 Sen. Antonio Trillanes IV slammed Senate President Aquilino "Koko" Pimentel for believing Gordon is doing a good job in protecting President Rodrigo Duterte and his family in the Senate probes into extrajudicial killings and smuggling and corruption controversies at the Bureau of Customs. Pimentel is seen in this Sept. 27, 2017 photo. Senate PRIB/Joseph Vidal
Koko Pimentel on Trillanes' ouster threat: Go ahead
(philstar.com) - September 28, 2017 - 9:19am
MANILA, Philippines — Senate President Aquilino "Koko" Pimentel seems unfazed by the threat of Sen. Antonio Trillanes IV that he will seek his ouster should Sen. Richard Gordon stays as blue ribbon chair.
"He can go ahead with his plans. This is a free country," Pimentel said.
At a news conference on Thursday, Trillanes warned that he "will work hard" to remove Pimentel from the Senate helm if Gordon is not sacked as the head of the powerful blue ribbon committee.
"For as long as si Sen. Richard Gordon ay nandyan sa blue ribbon committee, I will put the blame and responsibility kay Sen. Koko Pimentel," he said.
A staunch critic of this administration, Trillanes slammed the Senate leader for saying Gordon is doing a good job in protecting President Rodrigo Duterte and his family in the Senate probes into extrajudicial killings and smuggling and corruption controversies at the Bureau of Customs.
Trillanes said he told Pimentel his concerns on how Gordon handles hearings but these were not acted upon.
Trillanes versus Gordon
Trillanes said he will put Gordon in place as he is set to file plunder charges against him over his alleged corruption at the Philippine Red Cross. Gordon is currently the organization's chairperson.
Trillanes also criticized Gordon's performance as the chairman of the investigations committee, saying he should have the mindset of an investigator, not of a defense lawyer.
"Ito yung kanilang tinalaga sa blue ribbon committee? Wala bang mas magaling dyan? Wala bang mas maayos dyan? Kasi blue ribbon committee kailangan ito talagang objective siya, wala siyang kinatatakutan," he said.
Trillanes added: "Inaabsweldo niya 'yung mga malalaking tao. Kaya nga sinabi ko na committee de absuwelto. Master na master niya 'yan. Ginagamit niya 'yan as leverage to get favors from the people in power."
The Senate ethics committee found Gordon's ethics complaint against Trillanes sufficient in form and substance. But Trillanes is confident the case will not prosper.
READ: Panel: Ethics complaint vs Trillanes sufficient in form, substance
The two had a heated argument at one of the committee hearings on the smuggling of P6.4 billion worth of shabu through Customs last May.
Trillanes accused Gordon, of "lawyering" for some members of Duterte's family, particularly his son, Davao City Vice Mayor Paolo Duterte, and son-in-law Manases Carpio who were invited to the probe.