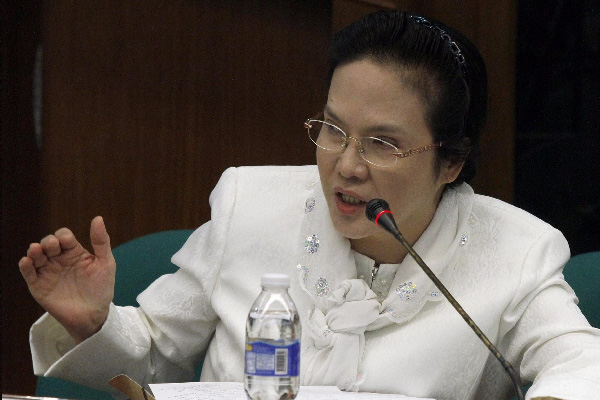 Public Attorney's Office chief Persida Rueda-Acosta, counsel of the Arnaiz and De Guzman families, said driver Tomas Bagcal is not credible enough to qualify for the witness protection program (WPP). Senate PRIB, File
'Cabbie in Carl, Kulot slays not credible state witness'
Edu Punay
(The Philippine Star) - September 27, 2017 - 4:00pm
MANILA, Philippines — The families of slain former University of the Philippines student Carl Angelo Arnaiz and his companion Reynaldo "Kulot" de Guzman have opposed the bid of the taxi driver – who accused Arnaiz of robbing him – to turn state witness.
Public Attorney's Office chief Persida Rueda-Acosta, counsel of the Arnaiz and De Guzman families, said driver Tomas Bagcal is not credible enough to qualify for the witness protection program (WPP).
Acosta cited the inconsistencies in the statements given by Bagcal, who turned himself in to the National Bureau of Investigation (NBI) last week after being under protective custody of non-government organization Rise Up for Life and for Rights.
"We've heard five versions of the story from him. In his first version, he said the robbers used a handgun and then it later became a knife. He also keeps on changing the actual time of the incident," the PAO chief told reporters in an interview at the Department of Justice (DOJ) yesterday.
"How can you place him under the WPP if he is not telling the truth, and he is inconsistent with his statements? Real witnesses, no matter where the court is, no matter where he is and when, he will testify and what he will say will not change at all," she pointed out.
When he surrendered to the NBI, Bagcal claimed that Arnaiz used a knife and was with Kulot during the robbery. He earlier said Arnaiz was alone and had used a gun.
Caloocan policemen claimed they killed Arnaiz, 19, in a shootout after he robbed Bagcal along C-3 Road in Caloocan.
Kulot was last seen alive with Arnaiz. The victim's body was later found in Gapan City, Nueva Ecija.