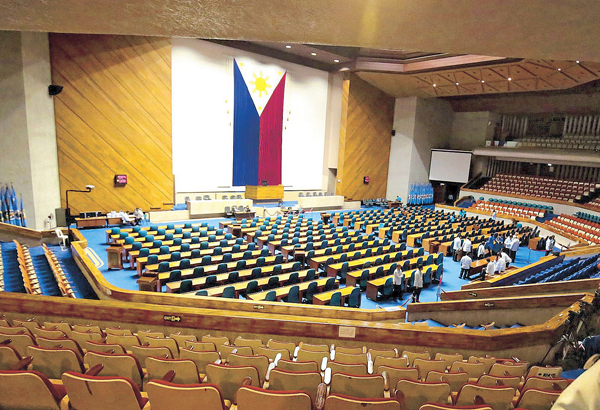 In a statement, the Judicial Reform Initiative expressed yesterday its grave concern on the growing use or threat of impeachment against several of the country's highest ranking officials – including the President, Vice President, Chief Justice and the ombudsman. MICHAEL VARCAS, File
Congress cautioned on impeach powers
MANILA, Philippines — A coalition of business and advocacy groups has urged Congress to be fair in handling impeachment petitions and to exercise its powers with "great prudence, probity and transparency."
In a statement, the Judicial Reform Initiative, an umbrella organization of business organizations, advocacy groups and foreign chambers, expressed yesterday its grave concern on the growing use or threat of impeachment against several of the country's highest ranking officials – including the President, Vice President, Chief Justice and the ombudsman.
It said the "indiscriminate or ill-considered filing of impeachment (petitions) against government officials distracts those accused from the
performance of their duties as public servants, as well as our Congress from its priority legislative agenda."
"We all suffer unduly and unnecessarily," the statement read.
Although it did not specifically name Chief Justice Ma. Lourdes Sereno, JRI believed that an indictment against a chief magistrate could weaken the constitutionally protected independence of the judiciary.
"Investors would risk capital only in countries where they have full confidence in the rule of law. Thus, any initiative which may be perceived as weakening the check and balance among the branches of government might shatter this confidence and negate our hard-won economic gains," JRI said.
The group urged Congress to ensure that impeachments are done "only for patently substantive and culpable violations of the Constitution" and in a process that is "transparent and reflects the highest standards of fairness and justice."
Established in 2012, JRI includes the Financial Executives Institute of the Philippines, Management Association of the Philippines, Makati Business Club, American Chamber of Commerce, European Chamber of Commerce and the Canadian Chamber of Commerce.
Meanwhile, an official of the Catholic Bishops' Conference of the Philippines (CBCP) has described the impeachment petitions as "a waste of time and taxpayer's money."
Bataan Bishop Ruperto Santos, chairman of the CBCP-Episcopal Commission on Migrants and Itinerant People (ECMI), said the one filed against Sereno is politically motivated and would just be a waste of taxpayers' money.
He doubts if Sereno would be fairly treated during the impeachment hearings against her.
"Impeachment would never be fair and just. It is just a numbers game, capitalizing on the majority and the President's whims and political party," Santos said.
Citing the impeachment of the late chief justice Renato Corona during the time of former president Benigno Aquino III, the bishop fears that an impeachment case has become prone to political influences.
"We witnessed this biased, abusive and revengeful use of impeachment in the Corona case. Thus impeachment can be abused and misused by a sitting president who controls Congress," the CBCP official said. – With Evelyn Macairan