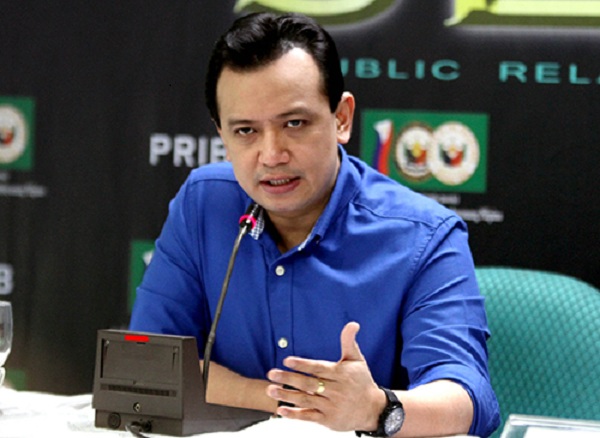 Trillanes yesterday reiterated his challenge for the President to sign a waiver and prove him wrong that the First Family has amassed over a billion pesos over the years. Senate PRIB/Cesar Tomambo, File
Trillanes to Duterte: Sign waiver to destroy me
Marvin Sy
(The Philippine Star) - September 12, 2017 - 4:00pm
MANILA, Philippines — If President Duterte wants to destroy Sen. Antonio Trillanes IV, all he has to do is sign a waiver of his bank deposits to confirm his innocence and prove the senator wrong.
Trillanes yesterday reiterated his challenge for the President to sign a waiver and prove him wrong that the First Family has amassed over a billion pesos over the years.
If he is proven wrong, Trillanes said he would not only resign from the Senate, but will walk into a jail of Duterte's choice.
"It's that simple. Without even a trial. I'll just walk in there," Trillanes said in an interview.
Trillanes said the special power of attorney (SPA) that chief legal counsel Salvador Panelo claimed had been issued during the campaign period has no value as the President is not willing to share details of his bank accounts with the public.
"But where is that? Does the media have a copy of that? No. The SPA was only released to him and the document can only be given to him. When I asked Panelo: 'Would you share the document that the Bank of the Philippine Islands said would be given to you?' He said 'No of course not. I am going to give it to my client.' That's the deception, Mr. Panelo is lying," Trillanes said.
The President has shot back at Trillanes, saying he will reveal the bank accounts that the senator allegedly maintains here and abroad.
In response, Trillanes signed several waivers on bank secrecy for the banks supposedly identified by Duterte's allies.
The senator expressed confidence that Duterte would not be able to show any supposed bank accounts overseas, saying neither he nor any member of his family owns such accounts.
Trillanes has also denied allegations that he misused public funds by hiring over 200 consultants for his office.
He said he had 63 consultants at a time, noting this has been verified and is within the limit set by the Senate.
"For as long as you're not putting money in your pocket, you're OK," he said.
Apart from the President, Sen. Richard Gordon also initiated moves to remove Trillanes from the Senate by filing a complaint before the Senate's ethics committee.
Gordon, who figured in a spat with Trillanes during a committee hearing on the P6.4-billion shabu smuggling, accused Trillanes of showing unparliamentary behavior and called for his expulsion from the Senate.
Trillanes said Gordon would not get the numbers to support his complaint.
"Sen.Gordon wants me expelled for that particular episode. He wants to protect his political patron who is President Duterte. He wants to show him that he is his most loyal subject in the Senate, that's why he is willing to do this. But would the other senators go along with him? I think no," Trillanes said.
"Sen. Gordon can fantasize about that scenario but that's not going to happen. I believe the senators know me well enough that this thing, whatever it is he is alleging, is not true. I trust in their wisdom and good judgment," he added.