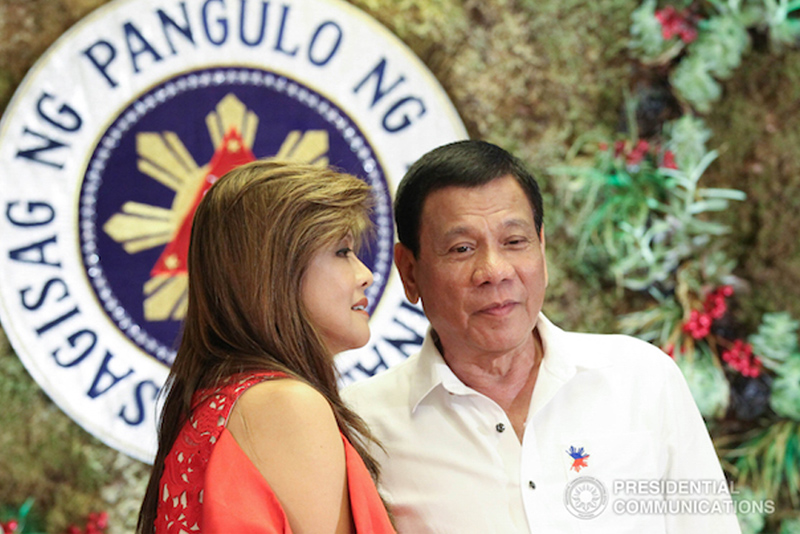 In this Dec. 12, 2016 file photo, President Rodrigo Duterte speaks with Ilocos Norte Governor Imee Marcos on the sidelines of The Outstanding Filipino 2016 awarding ceremony at the Heroes Hall of Malacañan Palace. PPD/King Rodriguez
Duterte defends declaring Marcos' birthday a holiday
(philstar.com) - September 10, 2017 - 7:37am
MANILA, Philippines — President Rodrigo Duterte defended his decision to declare September 11 a special non-working holiday in Ilocos Norte to commemorate the 100th birth anniversary of the late dictator Ferdinand Marcos.
"What's wrong? He was a president," Duterte said Saturday during a press conference at Camp Evangelista Station Hospital in Cagayan de Oro City where he visited wounded troops.
"To the Ilocanos he was the greatest president. Why do we have to debate on that? It's one day where they can celebrate the anniversary of a great Ilocano."
On Thursday, the Palace released Proclamation No. 310 declaring a holiday on September 11 so Ilocos Norte, the late strongman's home province, could be given "full opportunity to celebrate and participate in the occasion with appropriate ceremonies."
"As far as the Ilocanos are concerned, Marcos is a hero. Kaya to dwell on this thing for so long a time will just divide the nation," Duterte said.
BAYAN Secretary-General Nato Reyes tagged the declaration as "another step towards the full rehabilitation of the Marcos family."
"Duterte seems to be setting the stage for an eventual compromise deal with the dictator's family. The Marcos restoration is a grave injustice inflicted on the thousands of human rights victims under Martial Law," he added.
The president, however, would
likely be absent
at the commemoration at Libingan ng mga Bayani as he is scheduled to be in Davao City, presidential spokesman Ernesto Abella said.