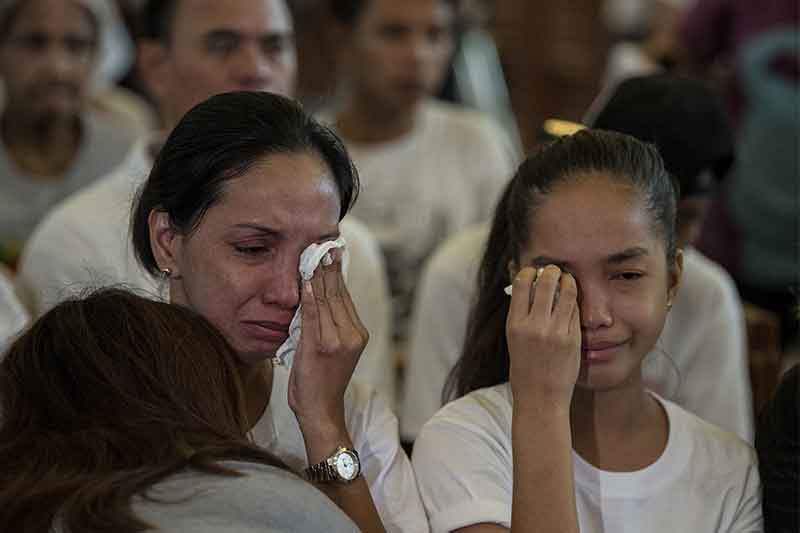 The mother (L) of teenager Carl Arnaiz, who was shot and killed after he allegedly robbed a taxi driver at gunpoint on August 17, cries during mass ahead of Arnaiz's burial at the Mater Dolorosa Parish in Manila on September 5, 2017. Philippine authorities said September 4 they would investigate allegations police tortured and murdered a second teenager following an earlier killing that sparked the largest street protests so far against President Rodrigo Duterte's war on drugs. AFP/Noel Celis
Parents of Carl, Kulot placed under witness protection
(philstar.com) - September 8, 2017 - 7:35am
MANILA, Philippines — The parents of slain teenagers Carl Angelo Arnaiz, 19 and Reynaldo "Kulot" de Guzman, 14, have been placed under the witness protection program, the Public Attorney's Office said Friday.
PAO chief Persida Acosta said that the filing of double murder charges for the case of Arnaiz and De Guzman against two Caloocan policemen and John Does are set next week.
On August 17, Arnaiz and De Guzman left their homes in Cainta, Rizal to buy midnight snacks. The teenagers went missing for days before being found dead.
Acosta said that the parents of Arnaiz are now under full coverage of the witness protection program of the Department of Justice, according to a report from The STAR.
Meanwhile, the parents of De Guzman are under provisional coverage of the program.
The body of Arnaiz was recovered at a morgue in Caloocan City after missing for 10 days. According to the police, he died in a shootout while robbing a taxi driver, who is now missing.
Earlier this week, the body of De Guzman was discovered floating in a creek in Gapan, Nueva Ecija with almost 30 stab wounds to his body, his face covered with tape.
The National Bureau of Investigation noted that De Guzman may have been killed as he would have been a vital witness to what happened the night Arnaiz was killed.
The case of Arnaiz may be compared to the death of 17-year-old Kian Loyd delos Santos, who was killed in an anti-drugs operation by Caloocan cops. — Patricia Lourdes Viray
RELATED:
What we know so far: Killing of Carl Arnaiz, 19