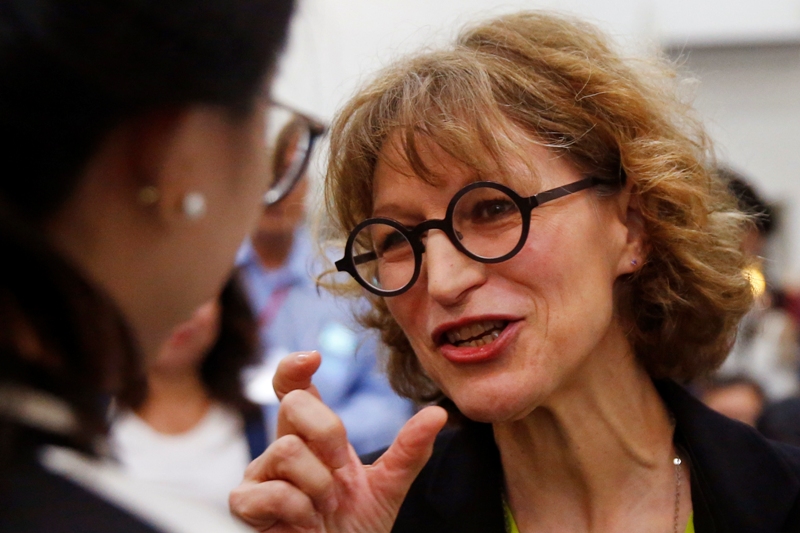 Agnes Callamard, U.N. special rapporteur on extrajudicial executions, talks to a reporter after speaking at a drug policy forum at University of the Philippines, Friday, May 5, 2017 in suburban Quezon city, northeast of Manila, Philippines. AP/Bullit Marquez, file
Duterte resumes tirade over Callamard tweet
MANILA, Philippines — President Rodrigo Duterte on Wednesday continued to assail United Nations (UN) Rapporteur Agnes Callamard even after the French Embassy called his attention to his erroneous claim about France's justice system.
Duterte chided Callamard for refusing to have a public debate with him on the Philippines' drug problem.
"Pumunta ka dito. Ayaw naman makipag-debate. Kasi kung makipag-debate 'yan, in five questions, gawain kong t**** 'yang buang na 'yan (Come here. But she does not want to have a debate. In five questions, I will make that crazy look like a fool)," the president said.
"Sabihin pa, 'O, last na itong kay Kian ha? 'Pag meron pa…' P*** (She said "Kian should be the last…if there's another one…b****). Who are you to say that? Kaya b***** s*** ko (So I cursed at her)," he added.
My heart-felt condolences to #kian family and to all families victimized by this cruel war. #Makehisdeaththelast #Philippines

— Agnes Callamard (@AgnesCallamard) August 26, 2017
Last Monday, Duterte hurled invectives at Callamard after she tweeted that the Philippine government should ensure that the killing of 17-year old student Kian delos Santos would be the last.
He also challenged the rapporteur to visit the Philippines so she can see for herself the country's situation.
After learning that Callamard is French, Duterte erroneously claimed that in France, suspects are presumed guilty until proven innocent. The French Embassy has refuted Duterte's statement, saying the presumption of innocence is the core of France's judicial system.
The Palace said Callamard's visit "sent a clear signal that she is not interested in getting an objective perspective on the issues that are the focus of her responsibility."
She said she was not in the Philippines on official business, a fact that the Department of Foreign Affairs acknowledged.
Duterte invited Callamard to the Philippines last December but imposed some conditions including allowing the President to interrogate the UN rapporteur in a public debate. Callamard refused to comply, saying the conditions were not in line with UN practices for country visits.
Palace: Philippines committed to upholding human rights
Malacañang did not directly react to Duterte's gaffe, merely stressing the Philippines' commitment for human rights.
"The Philippines and France share the same values of respect for human rights, due process and accords primacy to the presumption of innocence," Presidential Spokesman Ernesto Abella said in a statement.
"The president's statements (on Monday) express the sentiment that while no judicial or legal system in the world is perfect, countries are continuously working to refine their laws and improve their respective national systems in order to ensure protection of human rights while maintaining peace and order within its territory," he added.