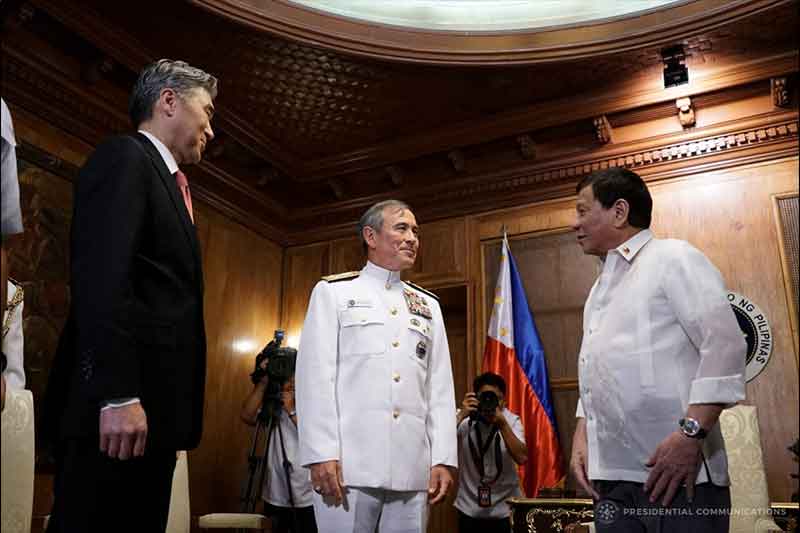 President Rodrigo Duterte welcomes Admiral Harry Harris Jr., commander of the United States Pacific Command, to Malacañan Palace as the latter paid a courtesy call on the President on August 23. Also in the photo is US Ambassador to the Philippines Sung Kim. Presidential Photo/King Rodriguez
Analyst: Duterte's stance puts defense capability at risk
MANILA, Philippines — President Rodrigo Duterte's public pronouncements on the Philippines' decades-old Mutual Defense Treaty with the United States undermines the country's deterrent capability, an analyst said.
Earlier this week, the president said that he will not invoke the defense treaty with the US if the Philippines confronts China in its violations in the South China Sea, and if the latter chooses the aggressive path.
"I will not call on America. I have lost trust in the Americans," Duterte said, known for his personal stance against the US.
The president made the statement after dismissing the warning of Supreme Court Associate Justice Antonio Carpio that Chinese are operating on a sandbar near Philippines-controlled Pag-asa Island in the West Philippine Sea—the part of the South China Sea the Philippines claims as under its jurisdiction.
READ: Duterte: Why defend disputed sandbar?
"Everyone knows that President Duterte doesn't like or trust the United States, and perhaps this was always his position on the MDT, but why say it publicly?" Gregory Poling, director of the Asia Maritime Transparency Initiative, told Philstar.com.
"Even if he didn't have any intention of ever invoking the treaty, there is no benefit and plenty of risks to telling the Chinese that," he added.
The military alliance between the Philippines and the US dates back to 1951, where representatives of the two countries signed the MDT.
Under the treaty, both the Philippines and the US would support each other if either one of the nations were to be attacked by an external party.
RELATED: The history of the RP-US Mutual Defense Treaty since 1951