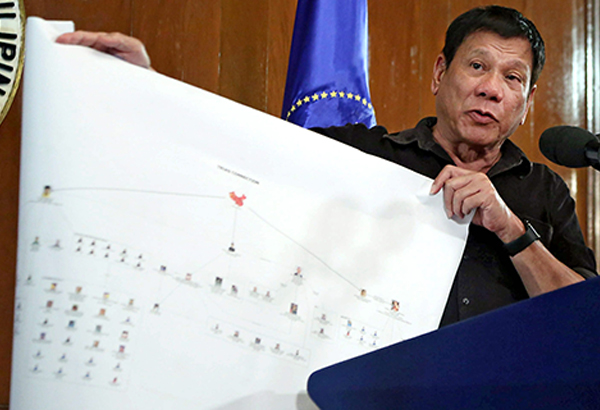 President Duterte holds a diagram showing the network of drug rings and personalities operating in the country while delivering a televised message at Malacañang on July 7, 2016. BOY SANTOS, file
Duterte admits he was wrong about 6-month deadline vs drugs
MANILA, Philippines — President Rodrigo Duterte admitted Thursday that he was wrong to assume that he can eliminate the illegal drug trade in three to six months, a campaign promise that helped propel him to the presidency.
"How can I control it in three to six months, the generals and policemen are involved. The Bureau of Customs, an agency I am relying on, son of a b****, is into drugs. How will I succeed?" the president said during his visit to the Ozamiz City Police Station.
In 2016, Duterte named high-ranking police officials who were allegedly involved in the illegal drug trade. Two of them were facing charges "of serious neglect of duty, serious irregularity in the performance of duty, and conduct unbecoming of an officer and a gentleman for their alleged involvement in illegal drug activities" in August last year.
"Alam ko na nagkamali ako. Nagkamali talaga ako. Hindi ko naman talaga akalain, yang Bureau of Customs na yan, akala ko kaalyado ko (I thought they were my allies)," he added.
Duterte projected himself as a no-nonsense, tough-talking crime buster during the campaign period, allowing him to win the 2016 presidential race by a landslide.
The longtime Davao City mayor, who vowed to suppress narcotics in six months, got more than 16 million votes, beating his more moneyed rivals, all of whom had previously held national posts.
In September 2016, Duterte sought a six-month extension to his drug crackdown, saying he was shocked by the magnitude of the problem. He later on admitted that the drug menace could not be solved easily and that the campaign would have to continue until the end of his six-year term.
"I said my critics were right. You said, when you become the president, you can do it in three to six months. I was not aware of the problem when I assumed office. Davao was just my template. There were drugs there but if you bring drugs there, you will die," Duterte said.
According to an accomplishment report in July by the regional Philippine Drug Enforcement Agency based in Davao City, anti-drug operations continue in the city. Among the agency's listed achievements was the dismantling of a drug den in Mandug, where around P400,000 in shabu was confiscated.
Duterte: Pilippines a narcotics country
While his administration has been conducting a brutal war against illicit drugs for more than a year, Duterte admitted that the Philippines has degenerated into a "narcotic country."
"Now, you ask, the Philippines, are we or are we not a narcotic country? Yes, we are," Duterte said.
"I did not know it when I was still mayor… Now that I am president, I told governors and mayors, do not ever f*** with drugs because if you destroy my country, I will kill you. I have been repeating that."
Thousands have died since Duterte launched his bloody war on narcotics but figures released by the government and civil society contradict each other. Previous reports have placed the death toll at around 9,000 but police officials claimed only about 3,000 drug personalities have been killed in law enforcement operations.
The anti-narcotics campaign has drawn flak from human rights groups here and abroad but Duterte refused to listen to his critics, whom he accused of trivializing the drug problem.
"Human rights (advocates), wala akong pakialam sa inyo. May trabaho ako at gagawin ko (I do not care about what you say. I have a work to do and I will do it)," the tough talking president said.
'Walang kaibi-kaibigan'
Duterte said his fight against illegal drugs would not spare anyone, not even his friends.
"Walang kaibi-kaibigan sa akin. Either patayin kita o patayin mo ako. Pareho lang sa akin (I will not favor my friends. Either I kill you or you kill me. It's the same for me). Just stop playing with drugs," the president said.
Duterte reiterated that he would protect policemen who would face charges in connection with the drug war, even promising to pardon and promote them in case they get convicted.
"My warning is this: Do not lie to me. Just tell me the truth because there is always a remedy. In the performance of duty, you'll have no problems," he added.
Duterte also warned policemen who are into illegal drugs, saying he has already offered P2 million bounty each for their arrest.