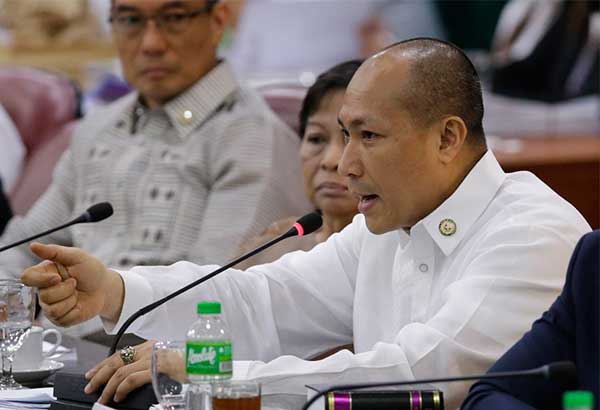 He also said the Department of Foreign Affairs (DFA) is verifying the information of Rep. Gary Alejano of party-list group Magdalo about Chinese vessels massing near Pag-asa Island off Palawan, which is occupied by Filipino soldiers and civilians. AP/Aaron Favila, File
'Duterte wants joint exploration with China'
Jess Diaz
(The Philippine Star) - August 16, 2017 - 4:00pm
MANILA, Philippines - President Duterte wants the country to enter into joint exploration with China in both disputed and undisputed areas in the West Philippine Sea, Foreign Affairs Secretary Alan Peter Cayetano said yesterday.
He also said the Department of Foreign Affairs (DFA) is verifying the information of Rep. Gary Alejano of party-list group Magdalo about Chinese vessels massing near Pag-asa Island off Palawan, which is occupied by Filipino soldiers and civilians.
"There is communication, I can tell you, but I cannot go into details," he told reporters at the House of Representatives, where he was scheduled to brief the special committee on West Philippine Sea chaired by Quezon City Rep. Feliciano Belmonte Jr.
"We communicate with them quietly and ask them, 'why are you there?' In the past, we confronted them at every opportunity by filing a diplomatic protest. That tack didn't work. Now, we are trying to establish peace and stability," he said.
DFA spokesman Robespierre Bolivar said the incident should be verified and proven first before the Philippines could file a diplomatic protest.
"No official reports from security agencies on these alleged sightings as of yesterday," Bolivar said in an interview on News To Go.
Regarding the joint exploration activities, Cayetano assured the nation that these would "conform with our national laws, the Constitution and Supreme Court cases and rulings on the matter."
"No national territory or sovereignty will be lost. We will not give even an inch of territory to them," he said.
He said the joint exploration and development projects could be for oil, natural gas, marine life and other natural resources. "We will come up with a doable, legal framework," he said.
He added that he has already asked for the help of Energy Secretary Alfonso Cusi and his lawyers to draft such legal framework.
The government had allowed a private company identified with businessman Manny Pangilinan to explore Recto (Reed) Bank for oil and gas.
However, the Aquino administration suspended the activity when the country filed its case with the United Nations Permanent Court of Arbitration, which has ruled in favor of Manila by invalidating China's claim to almost all of the South China Sea (West Philippine Sea).
However, Beijing does not recognize the ruling, which states that Recto Bank is part of the Philippines' 200-mile exclusive economic zone.
There have been reports that Chinese Coast Guard vessels were patrolling the Recto Bank area. – With Pia Lee-Brago, Jaime Laude