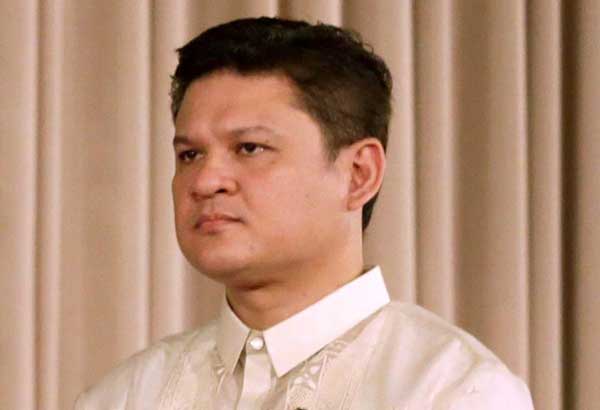 Duterte son dragged into BOC corruption scandal
Jess Diaz
(The Philippine Star) - August 8, 2017 - 4:00pm
MANILA, Philippines - The name of President Duterte's vice mayor son has been dragged into the House of Representatives' investigation on drug smuggling and corruption in the Bureau of Customs (BOC).
Quirino Rep. Dakila Cua, ways and means committee chairman, told reporters yesterday that importer-witness Mark Taguba mentioned Davao City Vice Mayor Paolo Duterte in the course of the 12-hour marathon hearing on the issue that lasted up to near-midnight on Monday.
In a statement, the vice mayor said he does not want to dignify Taguba's "lies" by explaining his side.
"Taguba admitted that his testimony against me was based entirely on rumors. Why would we entertain or believe hearsay? One does not dignify lies with a response," Paolo said.
Cua said they would have to ask Taguba to clear things up. "He referred to him as vice mayor (of Davao City). We will clarify this with him, what was his basis, so we will know how to proceed," he said.
He said if Taguba has solid basis in mentioning Vice Mayor Duterte, the House would consider inviting the presidential son.
Surigao del Norte Rep. Robert Ace Barbers, who presided over Monday's hearing as chairman of the committee on dangerous drugs, said it was upon the questioning of deputy speaker and Marikina Rep. Romero Quimbo that Taguba referred to the President's son.
"The witness told us that some of those he claimed to have bribed in Customs dropped the name of Vice Mayor Duterte, that they were collecting money for the President's son," Barbers told The STAR.
"That's hearsay, so I told him to be careful with pointing to and tainting people. His immunity will not save him from criminal charges," he said, referring to the immunity from prosecution the House has granted Taguba.
It was learned that Quimbo was asking about the broker's allegation that out of the P27,000 bribes he claimed to have given BOC officials, P10,000 or more than a third was going to "IAS" or import assessment service, while the others were supposedly getting only from P500 to P3,000.
It was at this point that Taguba claimed the "Tita Nanie" to whom he was giving the P10,000 per container, informed him the money was intended for the "Davao group led by the vice mayor."
"That's only tsismis (rumor)," Quimbo told him, according to those who recounted the Marikina congressman's questioning. To which Taguba gave an affirmative answer.
Cua, whose committee is doing a separate investigation on the same BOC issues, said he would ask his colleagues to study the importer-broker's testimonies.
"He has several inconsistencies. He changed his mind on some of his statements. The amounts of bribes he supposedly gave to BOC officials also changed. We have to study these, which could be ground for revoking the immunity," he said.
Official quits
On Monday, Taguba pointed to several BOC officers as those he claimed were receiving money from him. The officials denied his accusation.
One of them, former Army captain Milo Maestrecampo, who headed BOC's IAS, tendered his resignation yesterday.
"I may be a rebel, but I am not a thief. I am contented with my government salary," Maestrecampo said.
In his resignation letter to President Duterte, Maestrecampo said he decided to resign out of propriety and to give his superiors a free hand in investigating the controversy.
The former Army captain, Customs Commissioner Nicanor Faeldon and at least two other BOC officials are with the Magdalo group that participated in the failed Oakwood mutiny in July 2003.
"In order to fight for my honor and integrity and in the name of delicadeza, I hereby tender my resignation and submit to investigations in order to clear my name," Maestrecampo said.
"I just want to show that I am not clinging to the position. If the President accepts my resignation, that is perfectly fine. But if he says 'stay on', I will," he added.
The one-page resignation letter is addressed to President Duterte since he is a presidential appointee. The letter was sent through Faeldon and Department of Finance (DOF) Secretary Carlos Dominguez III.
On the alleged involvement of the "Davao group," including Vice Mayor Duterte, Maestrecampo said he does not know who these people are. "I would want to go deep into that because I want to clear the name of the unit and my name."
"I know the implication every time you say Davao. But I am not afraid… With my appointment coming from President Duterte, I promised him not to fail him. I do not believe that President Duterte would want people to use Davao for their illegal activities because I believe that the President is serious about reforms," he said.
"As far as I am concerned, my boss, my commander-in-chief per se are Commissioner Faeldon, Finance Secretary and the President. I do not have a boss who is a vice mayor or a mayor," the former Army captain added.
It's the turn of Cua's committee to continue its hearing today. Cua said they have invited Richard Chen alias Richard Tan, Kenneth Dong and a certain Chris Bolastig.
Chen is the owner of the Valenzuela City warehouse where Customs agents seized P6.4 billion worth of shabu on May 25, two days after the shipment was released at the Manila International Container Port.
Based on Taguba's testimony, Dong is his client who asked him to handle the cargo that contained the illegal drugs. Tabuga claimed he did not know the contents were shabu.
It was also Taguba who mentioned Bolastig, who is supposedly collecting money for Faeldon. However, the broker-witness said he has not given Bolastig any money.
Tougher rules
As corruption issues continue to bedevil the BOC, Sen. Sonny Angara called yesterday for the full implementation of the Customs Modernization and Tariff Act (CMTA) which, among others, imposes harsher penalties on delinquent BOC officials and employees.
"We increased the outdated amount of fines and penalties under the CMTA to make the law a stronger deterrent to smuggling," said Angara, sponsor of the law contained in Republic Act 10863.
Under Section 1431 (d) of CMTA, any BOC officer or employee found conspiring or colluding with anyone to defraud the customs of revenues would be penalized with imprisonment of not less than six years but not more than 12 years, and a fine of not less than P500,000 but not more than P1 million.
Guilty officials and employees will also be perpetually disqualified from holding public office and stripped of the right to vote and to participate in any public election.
Apart from improving trade facilitation and border protection, one of the main objectives of CMTA is to ingrain transparency and accountability into the bureau, the senator, who chairs the Senate ways and means committee, said.
"The law seeks to overhaul and modernize the BOC which, our investigations have shown, continues to be one of the most corrupt and underperforming government agencies in the country," Angara said.
The law also mandates that assessment officers should transfer ports every three years to prevent them colluding with anyone they do business with.
"With the computerization of the BOC, less human contact would be required. We want to minimize the discretion of officials in order to eliminate the alleged rampant corrupt practices in the bureau," he said.
Meanwhile, the BOC issued a statement yesterday insisting that the hiring of retired Philippine Basketball Association (PBA) players has greatly helped improve the bureau's image.
Retired players Kenneth Duremdes and Marlou Aquino, along with the BOC Transformers, took part in the BOC Hoop Clinic last July 22 held at the Davao City Recreation Center, the BOC said. Customs issued the statement in response to legislators questioning an athlete's P50,000 monthly salary. – With Edith Regalado, Evelyn Macairan, Paolo Romero