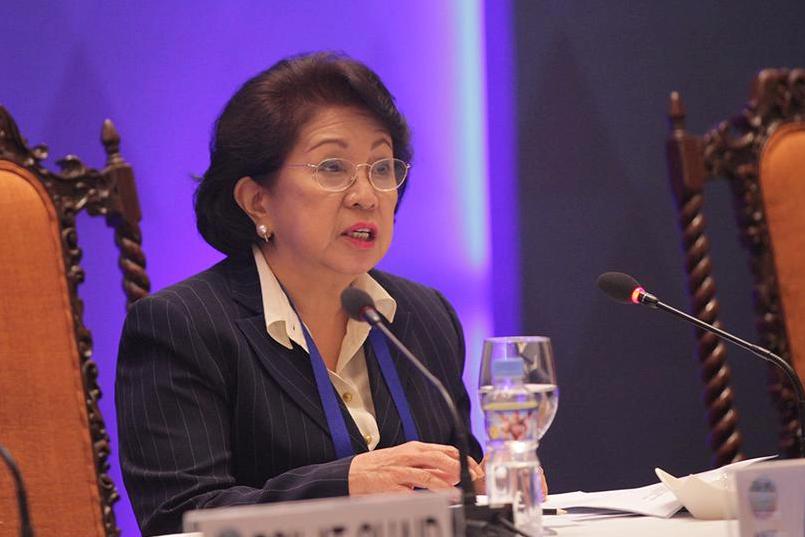 Ombudsman Conchita Carpio-Morales yesterday reacted to President Rodrigo Duterte's requiring the police and the military to seek his clearance first before appearing in investigations of the ombudsman and the Commission on Human Rights. APEC/Released
Morales: Duterte can't meddle in ombudsman probes
MANILA, Philippines - None of your business.
Ombudsman Conchita Carpio-Morales yesterday reacted to President Duterte's requiring the police and the military to seek his clearance first before appearing in investigations of the ombudsman and the Commission on Human Rights (CHR).
"Anong pakialam niya (What's his business here)? Under the law, we have subpoena powers. We have orders for particular officials, including police and soldiers, to show up or to file pleadings. If they don't file pleadings, that's their lookout," Morales told reporters on the sidelines of an anti-corruption forum in Quezon City yesterday.
On Tuesday, Duterte warned the ombudsman against citing policemen and soldiers in contempt for not attending investigations, particularly on the issue of extrajudicial killings (EJKs).
"Everything has to go through me… Whoever you will investigate, you have to course it through me. You address it to the DILG (Department of the Interior and Local Government) … If I say do not allow yourself to be investigated, you will not allow yourself to be investigated," Duterte said.
"There is no law that requires a soldier or a policeman or any respondent for that matter to seek clearance from anybody," even from the President, she said.
"To say they need prior approval of the President, that's the lookout of those to whom he is addressing that," Morales said.
Morales maintained that the investigation on police and military officials facing complaints before her office would push through whether or not the respondents cooperate with investigators.
"Tuloy yung kaso (The case will proceed) if there is probable cause, irrespective if he answers or not. If there is probable cause on the basis of the evidence of the complainant, we will push though with the filing of the case in court. Kung walang probable cause, kahit 'di siya sumagot (even if respondent does not respond) we will dismiss the case," Morales said.
There are pending complaints with the ombudsman against several police officials allegedly involved in summary killings of suspected criminals and drug offenders.
Not inhibiting
Morales also maintained yesterday she is not inhibiting from the complaint against former president Benigno Aquino III over the January 2015 Mamasapano carnage.
"Why should I inhibit? On what ground? No. I'm not a coward," Morales said.
The Volunteers Against Crime and Corruption (VACC) had earlier called on Morales to recuse herself from the complaint against Aquino, former Philippine National Police (PNP) chief Alan Purisima and former PNP-Special Action Force director Getulio Napeñas Jr.
VACC legal counsel Ferdinand Topacio and founding chairman Dante Jimenez said Morales should either resign as ombudsman or inhibit from the complaint, as it is "obvious" that the latter is protecting Aquino from prosecution.
Morales, a retired Supreme Court associate justice, was appointed by Aquino as ombudsman in 2011.
Morales said that despite criticisms, her office will decide on the complaint "based on evidence."
"They can attempt to repress the messenger, but they cannot suppress the message... Maraming bumabatikos sa akin, akala mo kung sino sila. Kayo na maging ombudsman. (Many are criticizing me, as if they know better. Try being the ombudsman). It's a thankless job," Morales said.
She also shrugged off Duterte's remarks that the cases being readied against Aquino, Purisima and Napeñas are "silly" and are sure to fail.
"That's his own opinion. The case is pending [with] motions for reconsideration. So, everybody is entitled to his own opinion," Morales said. "I am not listening to anybody. I go by evidence."
The VACC on July 1 last year assisted the families of the police commandos killed during the Mamasapano incident in filing 44 counts of reckless imprudence resulting in homicide against Aquino, Purisima and Napeñas.
The ombudsman, in a recent resolution, dismissed the complaint for "lack of probable cause," saying that the acts or negligence of the three former officials were not the "proximate cause" of death of the 44 SAF troopers.
The ombudsman, instead, ordered the filing against Aquino, Purisima and Napeñas of cases of usurpation of authority under Article 177 of the Revised Penal Code and violation of Section 3 (a) of Republic Act 3019 or the Anti-Graft and Corrupt Practices Act.
The families of the SAF 44 as well as Aquino have filed their respective motions for reconsideration on the ombudsman ruling.
The policemen were killed in an encounter with Muslim guerrillas as they were leaving Mamasapano after killing high value terror target Zulkifli bin Hir, alias Marwan, before dawn on Jan. 25 two years ago.
The encounter left 44 SAF troopers, 18 members of the Moro Islamic Liberation Front (MILF) and five civilians dead.
Meanwhile, Morales admitted that she did not attend the second State of the Nation Address of Duterte on Monday as she was not invited.
"It's OK. I don't care," Morales said, adding that she was also not invited during the President's first SONA last year.
"I was not invited last year, I don't expect to be invited this year... If there's a party or event for which you are not invited and you know your friends are invited, I'm not sensitive about it," Morales said.
Duterte recently slammed Morales over the latter's statement in a recent interview with Japan's NHK World that his directive to kill criminals is "not acceptable" under "any circumstance."
Morales said Duterte is "goading people to kill" with his repeated statements that policemen and even ordinary citizens have his blessing to arm themselves and kill criminals who resist arrest and who put people's lives in danger.
Duterte answered back by challenging Morales to show him any law prohibiting him from threatening to kill criminals.
The President then went on to criticize the Office of the Ombudsman for being a "corrupt" agency, citing his experience as a Davao City prosecutor.