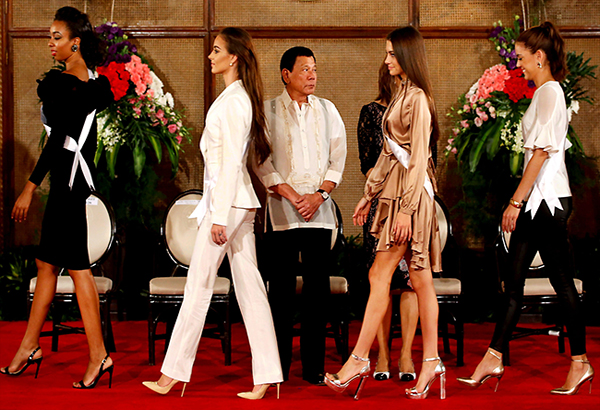 In this Jan. 23, 2017 photo, Miss Universe candidates paid a courtesy call on President Rodrigo Duterte at the ?Malacañan Palace. Krizjohn Rosales
Rape 'jokes' normalize objectification of women, CHR tells Duterte
MANILA, Philippines — The Commission on Human Rights expressed grave concern over the recent rape joke of President Rodrigo Duterte where he said he would congratulate someone who would rape a Miss Universe candidate despite knowing the punishment for the crime.
"Even in the context of a joke, the statement is a step-back to the advancement of human rights, particularly for women," the CHR said, adding that the remark, coming from the country's most powerful official, normalizes the objectification of women.
In a speech before diplomats last Friday, July 14, Duterte said: "What I don't like are kids (being raped.) You can mess with, maybe Miss Universe. Maybe I will even congratulate you for having the balls to rape somebody when you know you are going to die."
The Palace defended the president on Monday saying that most Filipinos get what Duterte is trying to say.
"There are those who tend to zero in on certain details, but as far as the public is concerned, and they are the ones who really approve of him, they find the president as somebody who understands them, who has their common interests, their common good, at heart," presidential spokesman Ernesto Abella said.
Abella also explained that the statement was not a joke but sarcasm.
"It was not a joke. It was a very serious statement that's actually saying: 'Bilib naman ako, gagawin mo pa 'yan, alam mo naman ikamamatay mo 'yan.'"
This was not the first time the CHR raised alarm over rape remarks from the president.
The president's statement also prompted the resignation of Samira Gutoc, a member of the Bangsamoro Transition Commission, the body tasked to draft the new Bangsamoro Basic Law.
"This is martial law. The houses were burning, people fled 12 hours walking from Marawi to Iligan City. You don't joke. You don't joke at that moment and time. It's horrible," Gutoc said in an interview on ANC's "Headstart" in June.
Duterte also said he was being sarcastic, and not joking, when he made the remark.
The president was also criticized for a
rape joke during the campaign period
involving an Australian missionary saying he should have been first since she was "so beautiful." A CHR investigation found that Duterte
violated the Magna Carta of Women
with the remark, which the president asserted as a narration of the 1989 hostage crisis and not a joke. He told the CHR to "
shut up
" after the investigation's results were released.
The CHR urged the president to be more circumspect in his statements, especially those involving women.
"It runs counter to the interest of the common good. When left unchecked, such jokes perpetuate discrimination and inequality."