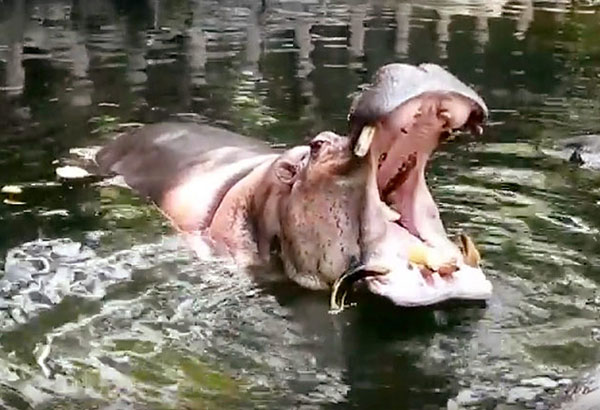 File photo shows Bertha, who was among the first animals in the Manila Zoo when it opened to the public in July 1959.

Manila Zoo loses oldest resident, Bertha the hippo
Rey Galupo
(The Philippine Star) - July 9, 2017 - 4:00pm
MANILA, Philippines - Bertha, the lone hippopotamus and considered one of the first animals in the Manila Zoo, has died.
Manila Parks and Recreation Bureau director James Albert Dichaves said zookeepers found the 65-year-old hippopotamus lifeless last week.
"Yes, she died at around 1:45 p.m. last Friday," Dichaves confirmed yesterday in a text message to The STAR.
The bureau had Bertha's remains autopsied, but the veterinarians said they did not see anything resembling sickness or disease that might have caused the death of the zoo's oldest animal.
Dichaves said the hippopotamus could have died of old age.
"We were actually anticipating it already because her health had been deteriorating in the past three weeks," Dichaves said.
Zookeepers also observed that Bertha had been moving slower than usual before she died.
The bureau chief said, however, he was extremely proud that Bertha had exceeded the average life span of hippos, which is 40-50 years old.
Bertha was among the first animals that were put on display at the zoo when it opened to the public in July 1959.
Bertha had a partner, Bert, who died several years ago, leaving her alone as one of the zoo's main attractions after the other animals passed away.
The hippo's remains were buried in one of the vacant lots inside the zoo but the skeleton will be dug up after it decomposes and will be preserved, according to Dichaves.
He said he had written Manila Mayor Joseph Estrada to request for another hippopotamus and other animals, like zebra and giraffe, which the zoo does not have at the moment. – With Jose Rodel Clapano